Ruth Archer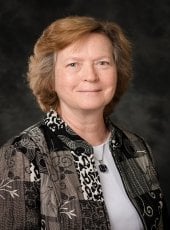 Contact
906-487-3180
136W Wadsworth Hall
Director of Continuous Improvement
PhD, Business Administration with a specialization in Industrial/Organizational Psychology, Northcentral University
MBA, St. Mary's University in San Antonio, Texas
BS, Electrical Engineering, Michigan Technological University
Biography
Ruth Archer is the Director of Continuous Improvement at Michigan Technological University, where she manages the continuous improvement activities for the university. Archer is responsible for providing training in Lean Thinking and integrating continuous improvement into the day-to-day activities for students, faculty, and staff. She also teaches several courses on Lean principles, teamwork, and communication.
Archer holds a Bachelor of Science in Electrical Engineering from Michigan Tech, an MBA from St. Mary's University in San Antonio, Texas, and a PhD from Northcentral University in Organizational Psychology. Her PhD was conferred on the 7th of December, 2016. The title of her dissertation is "Development of Interpersonal Skills: Theory Building through a Multiple Case Study of Engineers."
Archer is on the steering committee of the Leadership Keweenaw program which is sponsored by the Keweenaw Chamber of Commerce. She also serves as the advisor for the Leaders in Continuous Improvement student organization and the Silver Wings student organization.
Before working at Michigan Tech, Archer served in the United States Air Force, where she held multiple positions, including aircraft mechanic, test equipment designer, aircraft electromagnetic signature collector, radar modeler, and a current and future radar engineer, executive officer, and AFROTC instructor. She had achieved the rank of Major when she left military service.