William J. Bernard Jr. Family Clock Tower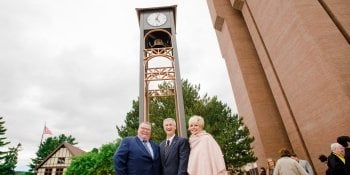 The clock tower stands nearly 37 feet tall and sits on a 3 ½ foot base constructed of concrete and salvaged Jacobsville sandstone from Tech's original central heating plant that was dismantled two years ago. The tower boasts a four foot diameter clock face, houses a 37" diameter cast bronze bell, and incorporates 478 surrounding personalized engraved pavers purchased by alumni, faculty, staff, retirees, students, parents, and friends.
The clock tower and the William J. Bernard Jr. Family Endowed Scholarship Fund are made possible by the generous donation from the William (Bill) and Ilene Bernard Jr. family. Houghton native, Bill Bernard received his bachelor's in metallurgical engineering from Tech in 1969. He currently acts as CEO and Chairman of Surface Combustion, Inc. headquartered in Maumee, Ohio. Watch the installation and dedication of the clock tower.
"We hope this clock tower provides a new campus gathering place and inspires students to create new traditions. At the same time, we hope it honors the great heritage of Michigan Tech and its partnership with the Copper Country community."
---
Husky Statue Plaza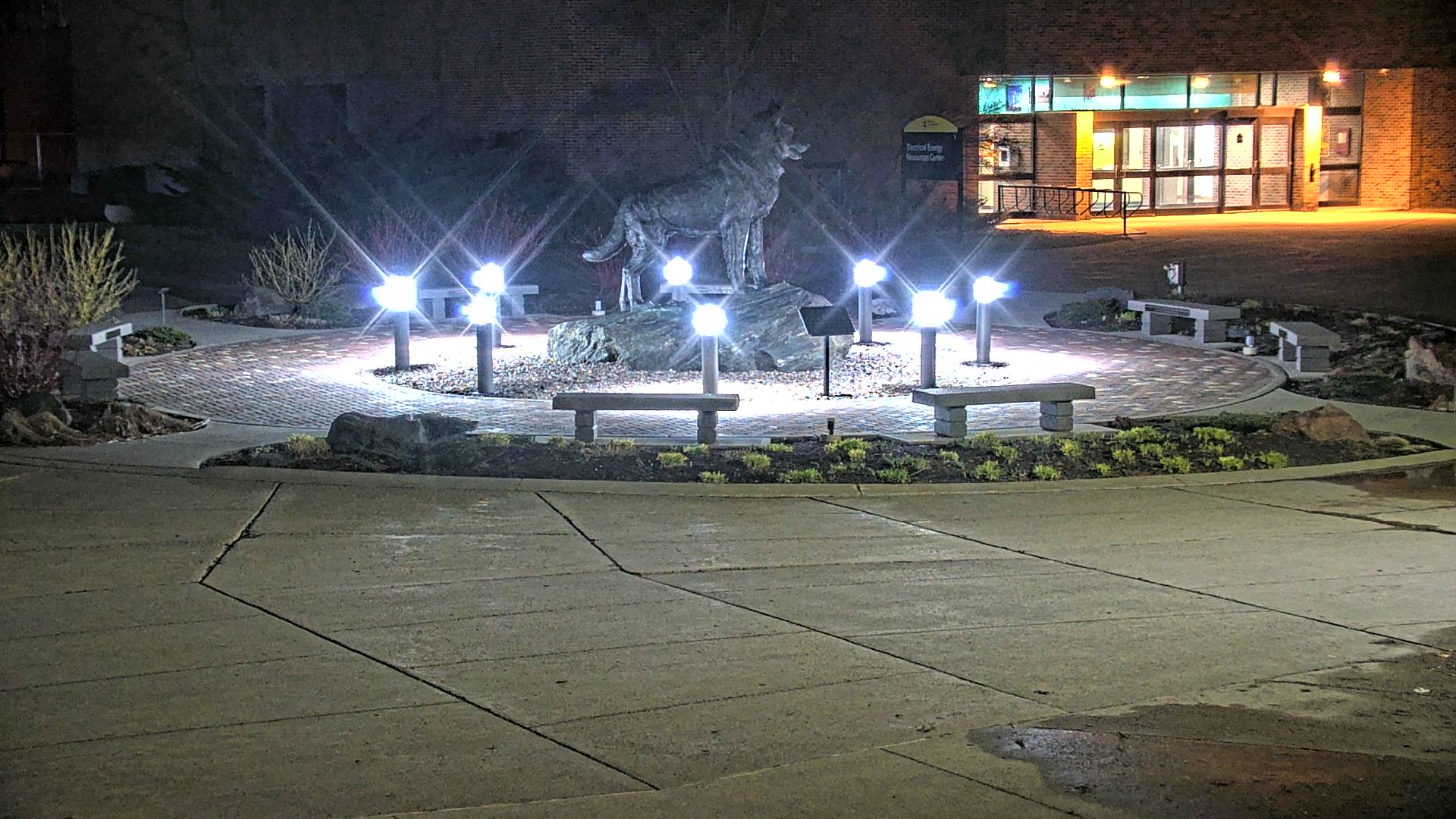 Located across from the J. R. Van Pelt and John and Ruanne Opie Library, a larger-than-life, nine-foot-tall bronze Husky statue stands proudly on a Baraga County boulder, surrounded by benches, planters, and paver stones. View a 3-D model of the statue.
The statue at the center of Husky Plaza is a visible and lasting tribute to the spirit of Michigan Tech.
This great campus tradition was unveiled in October 2014 during a celebration with nearly 1,000 people in attendance, including the Pep Band, Husky athletes, faculty, staff, and community members. Watch the installation and dedication of the statue.
The statue was made possible by a gift from Dan and Joan Lorenzetti and their family. A long time supporter of Michigan Tech, Dan has also led fundraising initiatives such as the Memorial Grove and Mont Ripley snow making equipment.
Additional contributions to the Husky Plaza came from the Michigan Tech Alumni Association: Roland Huhtala '74 and Pete '53 and Shirley Meyers. More than 1,000 personalized, engraved stones encircle Husky Plaza.
---
John Rovano Plaza
The Alumni Way project was launched with the dedication of the John Rovano Plaza in October 2013. The Plaza, named for the long serving director of facilities, affords an outdoor seating extension to the Library Café and is located between the Van Pelt and Opie Library and Rekhi Hall.
The plaza was made possible through a gift from David Brule Sr. '72 who has supported a number of campus improvement projects in addition to numerous student initiatives and scholarships.
---