Roman Sidortsov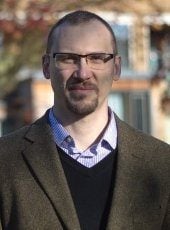 Associate Professor, Energy Policy
University of Cambridge, Churchill College, Scott Polar Research Institute, PhD in Polar Studies/Geography, October 2016
Vermont Law School, LL.M in Environmental Law, summa cum laude, February 2012
Vermont Law School, Juris Doctor, magna cum laude, May 2008
Irkutsk State University School of Law, Bachelor's and Master's Degree in Law, Highest Honors (Red Diploma), June 1999
Biography
Roman Sidortsov has a diverse international background as an educator, researcher, consultant, and practicing attorney. He has developed and taught law and policy courses ranging from Renewable Energy and Alternative Fuels to Administrative Law at Vermont Law School, Irkutsk State Academy of Law and Economics in Russia, and Marlboro College Graduate School's MBA in Managing for Sustainability program. Dr. Sidortsov currently teaches Energy Policy and Technology (SS3800), Seminar in Energy & Climate Policy (SS6100), Energy Security and Justice (SS3811), and several other energy and general education courses.
Prior to transitioning to academia, Dr. Sidortsov practiced law in Russia as in-house counsel for an American non-profit organization and in the United States as a transactional attorney. Throughout his career, he has consulted for various international companies on issues involving foreign and comparative law and policy. Dr. Sidortsov's current and past affiliations include: the U.S. Academic Team within the Energy Law Partnership of the U.S.-Russia Bilateral Presidential Commission's Energy Working Group, the Extractive Industries Working Group at the Arctic Centre, University of Lapland, International Energy Justice Council, and the Institute for Energy and the Environment at Vermont Law School. Dr. Sidortsov also serves as an associate editor for Energy Research and Social Science, a high-impact journal published by Elsevier.
Dr. Sidortsov's research is motivated by the need to transition to more sustainable energy systems. It focuses on international and comparative energy law and policy with a special emphasis on the Russian Federation and the United States, energy security and justice, energy geopolitics, risk governance in the energy sector, and Arctic energy development. Dr. Sidortsov's research has been funded by various U.S. and international entities including the State of Vermont, the Cambridge Trust, and the Norwegian Ministry of Foreign Affairs.
Research Interests
Sustainable Energy Systems
Energy Security and Justice
Risk Governance of the Energy Sector
Arctic Energy Development
Russian Energy Policy
U.S. Energy Policy
Areas of Expertise
Energy and Environmental Policy
Comparative and International Energy Law
U.S. Energy Law
U.S. Environmental Law
Russian Energy and Environmental Law
Energy Geopolitics