Andrew Fiss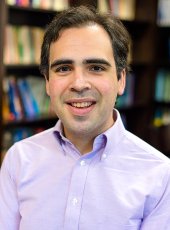 Assistant Professor of Technical & Professional Communication
Ph.D. History & Philosophy of Science, Indiana University
A.B. Mathematics, Vassar College
Biography
With a background in science studies and first-year writing, Dr. Andrew Fiss works at the intersections of cultural history, rhetoric, technical communication, and education. He has studied the use of podcasting to improve students' scientific and digital literacies, and his work about the rhetoric of mathematics textbooks has appeared in the journals Science & Education and the History of Education Quarterly. His current book project, Math on Fire: Cultures of Textbook Burning and Mathematics Requirements in Nineteenth-Century America, is a cultural history of mathematics requirements, providing a fuller picture of nineteenth-century college life and also a historical perspective on Americans' intense feelings about mathematics. Math on Fire looks to the nineteenth century for the historical roots for educators' arguments about why geometry, trigonometry, and calculus should be common requirements, and it also uncovers the ways that thousands of nineteenth-century students celebrated passing their last required mathematics classes through burning their books. This combination of material allows for an unusual perspective on our present policy debates surrounding mathematics requirements in high schools and colleges throughout the United States.
Dr. Fiss teaches rhetoric, science writing, technical communication, and graduate seminars in public understandings of science and technical and scientific communication. He is a member of the Scientific and Technical Communication Steering Committee and serves as an advisor for the Society for Technical Communication student chapter. As former director of the Humanities Internship Program, he is willing to meet with students about any stage of the internship process. Lastly, he is very interested in STEAM (STEM + Arts) initiatives at Michigan Tech and beyond.
Specialties
Science Communication
History and Philosophy of Science and Medicine
Rhetorics of Science and Technology
History of Engineering and Mathematics Education
Science and Technology Studies
Interdisciplinary Education
Recent Presentations
Andrew Fiss and Laura Kasson Fiss, %%Female 'Mathematikados': Parodying the Patriarchy in 19th-century STEMM Education.%% Lecture for the British Science Festival, British Association for the Advancement of Science, September 2017.
"'For Computing Is Our Duty': How Women Became Computers." Lecture for the Algorithmic Thinking Symposium, UC Berkeley Center for Science, Technology, Medicine and Society, Social Science Matrix, Institute of International Studies, May 2017.
"The Drug of Women's Education: Dr. E.H. Clarke's Materia Medica as Context for his Sex in Education (1873)," The History of Science Society Annual Meeting, Atlanta, November 2016.
"Performing 'Trig': The Stakes of Embodying Mathematics in Student Plays," The History of Science Society Annual Meeting, Atlanta, November 2016. (Women's Caucus featured round table)
"Studying Objects, Objectifying Students: Natural History at New York State Women's Colleges, 1861-1875," The Interdisciplinary Nineteenth-Century Studies Conference, Asheville, NC, March 2016.
"Performing Trigonometry: Scientific Parody and Women's Mathematical Abilities in Late-Nineteenth-Century America," The History of Science Society Annual Meeting, San Francisco, November 2015.
"Who's Anna? Burying Mathematics Books in order to Remember the Civil War Dead at Nineteenth-Century New England Colleges," Special Session about the History and Philosophy of Mathematics, American Mathematical Society (Eastern Section), Georgetown University, Washington, D.C., March 2015.
"Burying Anna (Lytics): Mathematics Rituals and College Communities after the Civil War," The History of Education Society Annual Meeting, Indianapolis, November 2014.