Ciro A. Sandoval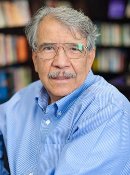 Contact
Emeritus Professor of Spanish Language and Comparative Studies, Humanities
PhD, State University of New York, Stony Brook
Biography
Dr. Ciro A. Sandoval is interested in the interdisciplinary role of humanities, science, and technology as perceived in landscape, ecology, and technological, scientific and literary utopias and dystopias. He has parallel interests in theories of translation and language for special purposes, and/or literacies.
Specialties
Comparative Literature with special emphasis on Spanish-speaking World
Interdisciplinary Crossings in Science, Technology, and Humanities
Communication across cultures
Spanish for Specific Literacies
Linguistic and Cultural Translation
Landscape studies
Books
Sandoval, Ciro A., and Sandra M. Boschetto-Sandoval. José María Arguedas: Reconsiderations for Latin American Cultural Studies. Athens: Ohio University Press, 1998. Print.
Recent Publications
Sandoval, C. A., ""El SEXTO: Entre lenguaje y poder"", Philología Hispalénsis (University of Seville, Spain). 23 (Summer 2009), 37-52, (May 2010). (peer-reviewed/refereed) (Published)
Presentations
Boschetto-Sandoval, Sandra M., Fonkoue, Ramon A., Sandoval, Ciro A., "Panel Organizer and Presider: Literature and the Poetics of Interculturality", Midwest Modern Language Conference (M/MLA), Modern Language Association, Chicago, Illinois, Oral. (November 4, 2010 - November 7, 2010).