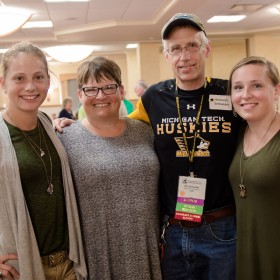 This week more than 500 Michigan Tech alumni and friends will return to campus for Reunion 2017.
Festivities throughout reunion include the 50ish Pep Band anniversary, men's alumni basketball game, and a celebration of the women of Michigan Tech. Join us for tours and open houses across campus. See labs and gardens. Visit with faculty and staff. Meet alumni and friends.
Tour the Keweenaw Waterway aboard the Ranger II. Learn the secrets of pasty-making. Make your own stuffed Husky. Explore the Keweenaw.
So many wonderful reasons to come home, again. Reunion is a great way to reconnect with classmates and meet new friends. Whether it's been 50 years or 10 years since you've been back to campus, welcome. We look forward to seeing you.
And, if you can't join us this year, please visit the Michigan Tech Alumni and Friends Facebook page where we will post photos and news from this year's reunion.
For a schedule of this year's events, visit.
Sarah