David M. Labyak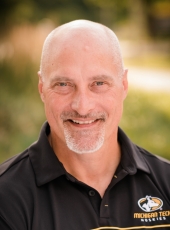 Assistant Professor, Manufacturing and Mechanical Engineering Technology
Faculty Advisor, Advanced Metalworks Enterprise
PhD, Mechanical Engineering-Engineering Mechanics, Michigan Technological University
MS, Mechanical Engineering, Michigan Technological University
Biography
David Labyak has 25 years of experience in the automotive, mining, aerospace, and engineering consulting industries. He is a board member and hockey coach for the Copper Country Junior Hockey Association.
Research Interests
Biomechanics—Solid Mechanics

Head Impacts
Helmet Performance and Design

Solid Mechanics

Finite Element Analysis and Vibration Analysis
Specialties
Understanding football helmet design and performance
Solid mechanics and finite element analysis methods
Helping student groups (such as Baha and Clean Snowmobile) with design and analysis of components
Vibration analysis
Shock analysis methods
Youth Hockey Coaching Do's and Don'ts
Industrial Experience: 24+ Years
AC Rochester Division of General Motors
Copper Range Company
Raytheon Missile Systems
Great Lakes Sound and Vibration
Dr. Labyak teaches courses in CAE and FAE methods, controls of dynamics systems, machine design, and dynamics and kinematics.