Charles McArthur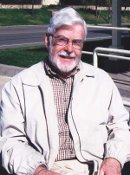 BS Metallurgical Engineering 1950
The life and times of Charles McArthur, an MSE alumnus from Folsom, California, have revolved around three traditions: family, education, and mining.
Family ties were paramount; education was the family mantra; and working in the mining industry was a family tradition.
McArthur, ("Mac"), was born in 1927, graduated from high school in New Rochelle, New York, in 1945, and, at age seventeen, enlisted in the navy. He served on a submarine tender. "We sailed around the Pacific," he recalls. "It was easy duty."
He was one of five brothers. All went to college—McArthur to Michigan Tech, where he earned a bachelor's degree in metallurgical engineering, with a concentration in mineral dressing, in 1950.
He treasured his years at Tech. "It was tough, but it was a great place to go to school. The teachers were so good, so interested in you. They had a great attitude toward the students. I think it's still that way. I had three children in college so I have a broad view, and I think that's an essential element at Michigan Tech. The students are important. That's the truth."
After graduation, he immediately followed his father into the mining business. He spent the last 32 years of his career with BHP-Utah Minerals International, where he retired as executive vice president.
He oversaw operations in North America, South America, Asia, Australia, and Europe. At one point he was in charge of all of the firm's business in the western hemisphere—coal, iron, and copper. "Not just one mineral," he points out. "We'd go anywhere to mine anything that you could make money on."
Like his father before him, he was well travelled. "The travel was good fun," he said. "Very broadening and educational. That was the great part of the mining industry—you could, and you did, move around."
His Tech education helped him in his career. The schooling, he says, was "hands-on and practical." His first job was with Cleveland Cliffs, where, in short order, he was a supervisor, an early achievement that foretold a distinguished career. Throughout his career, he collaborated with people from elite schools and could hold his own among them—and then some.
He and Carroll Evsen were married in 1952. He says of his spouse, "You can't do what I did—wander around the world—without a solid partner at home."
Carroll, too, is a champion of education. Accordingly, the couple established an endowment for the MSE department in 2001. It supports undergraduate student research in the department; more than twenty students have had the advantage of that opportunity.
The couple has educated both family and strangers. "That's a good thing to do with your money," McArthur avows. They also helped fund the remodeling of the department's seminar room.
McArthur is a member of Tech's Academy of Materials Science and Engineering, a past trustee of the Michigan Tech Fund Board of Trustees, a Golden M member of the alumni association, and the recipient of the University's Board of Trustees Silver Medal (1980).
He's eighty-two now. An avid boater, he has always enjoyed exploring the waters of San Francisco Bay. "I'm too old for that now," he says. "I'm just happy to see the sun come up again."
And to see those three children, seven grandchildren, and four great-grandchildren. "That's the way it's been—strong family ties," he says, "and educate the children."
From the Department of Material Science and Engineering Newsletter, Fall 2009