Nancy M. Grimm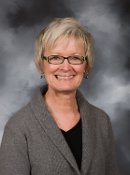 Contact
Emerita Professor of Humanities
PhD, Michigan Technological University
Biography
Dr. Nancy M. Grimm's research interests focus on literacy studies, writing center studies, pedagogical theories, and composition studies. Her current research addresses the teaching of literacy in ways that account for cultural, racial, and class differences.
Research Areas
Literacy Studies
Writing Center Studies
Composition Studies
Pedagogical Theories
Recent Publications
"The Idea of a Multiliteracies Center: 6 Responses", Praxis: A Writing Center Journal. 9 (2), (May 2012) (not peer-reviewed/refereed) (Published)
Grimm, N. M., "Retheorizing Writing Center Work to Transform a System of Advantage Based on Race" in Writing Centers and the New Racism. A Call for Sustainable Dialogue and Change. Greenfield, L., Rowan, K., (Utah SUP, Logan, Utah, December 2011), 75-100. (Published)
Presentations
Grimm, Nancy M., "Resisting Affliative Connection: The Push of Tacit Values and Expectations", Conference on College Composition and Communication, NCTE, St. Louis, MO, Oral. (March 22, 2012).
Grimm, Nancy M., "What Do We Want Tutor Education to Accomplish in the 21st Century? For Whom? And Why?", Midwest Writing Centers Association, Madison, WI, Oral. (October 2011).
Grimm, Nancy M., "Multiliteracies Center Services for Graduate Students and Faculty", Civil and Environmental Engineering Department, Michigan Technological University, Oral. (September 29, 2011).
Grimm, Nancy M., "From Writing Center to Multiliteracy Center: Imagining the 21st Centuryu", Computers and Writing, Oral. (May 20, 2011 - Present).
Grimm, Nancy M., "Productive Diversity as a Core Value in Program Administration: From Challenged Assumptions to Changed Practices", University of Wisconsin Oshkosh, Oral. (April 28, 2011 - Present).
Grimm, Nancy M., "Strenthening the Workplace through an Inclusive Approach to Diversity", Equity Within the Classroom Conference, Houghton, MI, Oral. (March 28, 2011 - Present).
Grimm, Nancy M., "Writing Theses and Dissertations", Graduate Student Council, Michigan Tech, Oral. (February 16, 2011 - Present).
Grimm, Nancy M., "Michigan Tech Multiliteracies Center", ME-EM Faculty Meeting, Oral. (January 25, 2011 - Present).