Alumni Resources
As alumnus of Michigan Technological University's Graduate School, take pride in being a member of our alumni family! Reconnect with old classmates, stay current on Michigan Tech related news, share your story—where has life's journey taken you since leaving campus? And please, if you can, give back by supporting our hard-working Graduate Students!
Raymond Satterley
'25
Retired General Manager of Iron Mines and Vice President of several mining subsidiaries after serving 43 years with Inland Steel in Ishpeming, MI; Superintendent, Greenwood Mine; General Superintendent, Iron Ore Mines; General Manager, Iron Ore Mines; Vice President and General Manager of Caland Ore Co. Ltd., Inland's Canadian Subsidiary; Assigned by International Executive Service Corps to work in Tunisia with . . .
Laurie Schwerin
'87
Alums Team up to Engineer a Better Beer Chas Thompson '91, computer science, had a good reason for becoming a brewer. "I was thirsty," he says, pouring beers from the Schmohz Brewery counter at the recent Grand Rapids alumni tailgate party. Jim Schwerin '87, owner and brewer at Schmohz (pronounced shmoes), had a similar reason. "I couldn't find a beer I liked," he says.
Richard Wilcox
'82
Richard Wilcox, President/CEO, Wilcox Associates, Inc. earned a baccalaureate degree in civil engineering in 1982 and a baccalaureate degree in land surveying in 1983. Rick joined Wilcox Associates, Inc. of Cadillac, Michigan in 1983 and has guided the multi disciplined consulting engineering firm to a 270 person staff with offices in Michigan (10), Indiana (1), Arizona (2), Wisconsin (1) and three operating companies: . . .
Stay Connected
Boost the New Graduate Emergency Fund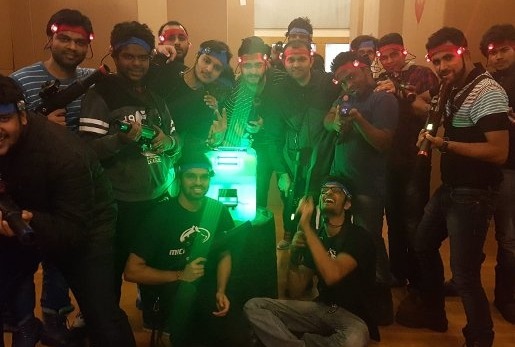 Our industrious Graduate Student Government has seeded the newly created Graduate Student Emergency Fund with donations raised from a laser tag event. Please help them build this fund to give meaningful help to a graduate student who finds themselves in sudden need of help.