Alumni Resources
As alumnus of Michigan Technological University's Graduate School, take pride in being a member of our alumni family! Reconnect with old classmates, stay current on Michigan Tech related news, share your story—where has life's journey taken you since leaving campus? And please, if you can, give back by supporting our hard-working Graduate Students!
D. Kelly Campbell
'39, '39
In the late 1930s, when D. Kelly Campbell was at Tech skating through a dual major in geology and mining engineering, one of the highlights of campus life was ice hockey at Dee Stadium. "That was the big social event," Campbell recalls. He never played but was a great fan. "Hockey is a fantastic sport," he says. "The physical side of the game is amazing—how players stand up to that." . . .
Robert Hitch
'56, '54
Robert Hitch earned his baccalaureate degree in civil engineering from Michigan Tech in 1954. Following graduation, he served as a lieutenant in the U.S. Air Force and returned to Michigan Tech for graduate study in civil engineering. He earned his masters degree in civil engineering in 1956 and served as an instructor from 1957 through 1960 teaching in the area of structural analysis and design. In 1960, he joined Yalmer . . .
Dennis Staley
'57
Dennis Staley '57 was the first in his family to attend college. He chose Michigan Tech, and he's never regretted the decision. This man of few words sums up his Tech education as excellent, his guiding philosophy as honesty, and the key to his success being hard work.
Stay Connected
Boost the New Graduate Emergency Fund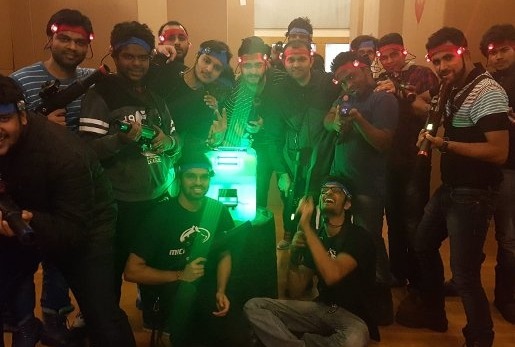 Our industrious Graduate Student Government has seeded the newly created Graduate Student Emergency Fund with donations raised from a laser tag event. Please help them build this fund to give meaningful help to a graduate student who finds themselves in sudden need of help.