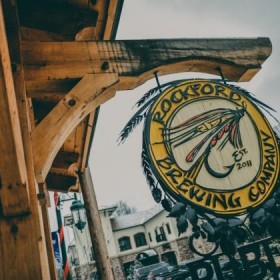 When we went searching for Huskies in the craft beer, artisan wine, cidery, and distillery businesses, we found more than 30 alumni.
After the story came out, we discovered more.
Like physics major Robert H. McGregor '62 of McGregor Vineyard.
"I enjoyed the current issue, especially the article on beer and wine," he wrote. "It was of special interest because in 1971 I planted Vitis Vinifera grapevines on Keuka Lake in the Finger Lakes of Western New York. My wife and four children also helped with this 'weekend' venture while I still worked at Eastman Kodak in Rochester, New York. Our vineyards were 50 miles away. In 1980 we began producing our first wines."
Wife and co-founder Marge hails from the Copper Country. She was secretary for the Michigan Tech dean of students in the late '50s to early '60s. "Our son is now running the business," says Robert. "We are retired, and spend our winters in Mexico."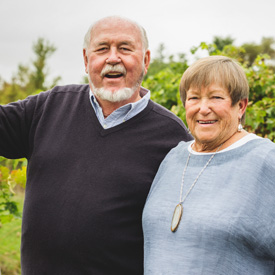 Spirits of Michigan Tech

Charles and Milissa (Wallace) McGonegal '93 established AEppel Treow Winery & Distillery in 2001 in Burlington, Wisconsin. They produce small-batch cider and perry (pear cider) in a range of styles using readily available, and rare heirloom fruits. They also make whiskies and brandies using regional crops and wood.
Bringing China Brews
"I am so excited that Tech is doing something about the craft beer industry," writes 2014 MBA grad Tao Tao. "It is amazing how many Huskies are working in this industry."
Beer Coyote delivers US craft beers—the spirit as well as the flavors of this uniquely American movement—to beer appreciators in China. Tao Tao, known as Executive Coyote, grew up in Shanghai and travels back there frequently. Hurricane Hamilton, a 2015 computer science grad, aka Technology Coyote, combines his love of beer with software systems. Huskies interested in introducing their brews to the most populated country in the world are welcome to get in touch.
"We'd love to connect with other Huskies in the business."
Rocking On in Rockford
There's no way we could have missed Seth Rivard this time around. Several folks, including former employer Ted Soldan, brought the omission to our attention (thanks!). "You appear to have missed Seth Rivard of Rockford Brewing Company. He was a student employee of mine, got his degree in 1998 and seems to be doing very well for himself."
Rockford kegs and bottles are distributed statewide. "We use all-Michigan ingredients in many of our beers, and are getting ready to add on a Michigan farm-to-table restaurant on our pub," says the management information systems grad who opened in 2011, adjacent to the scenic Rogue River along the White Pine Trail. "I used my entrepreneurial skills I learned in the School of Business (paired with some engineering) and mixed it with my passion for beer," he says.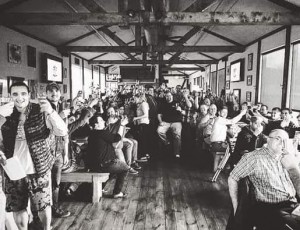 On the Alaskan Trail
Reid McDonald '93 looks forward to every issue of Michigan Tech Magazine. But he especially enjoyed this one.
"Great article on John Scott, as a former Husky Hockey player that was a great story. Loved the alumni breweries! You guys missed one though—mine," writes Reid, who played forward for Michigan Tech from 1988-92 and opened the hockey-inspired Odd Man Rush Brewing of Eagle River, Alaska in 2015. "We are hosting an alumni function in November when Tech comes up to play UAA!! Thanks and keep up the great work!"
He wrote the book

Huskies are always looking out for each other. Alumnus Mark Lienau of Silver Leaf Winery reminded us about John Palmer '87, the author of How to Brew:
"It was one of the first home brewing books to come out when home brewing became legal. Almost anyone serious about home brewing knows his name. If you do talk to him and did not come across him yet, make sure to let him know I pointed him out, ha ha!"
We found John, whose book held a number-one spot on Amazon for more than a year, still at the top of his game at Palmer Brewing Solutions.
"I started home brewing in 1990 after the lack of dark beer in California forced me to look at my options. I read the other books on the market and realized that a process engineer's approach was needed." He started writing for brewing magazines. Then came the book, published on the internet in 1990. A hard copy came in 2001, a third edition in 2006. Fast forward to 10 years later—he's working on the fourth edition. We featured John in the winter 2008-09 Michigan Tech Magazine. Read an excerpt in our alumni profiles.
"My engineering approach to brewing manifests in the way that I lay out the steps of the brewing process, describing what each step is supposed to accomplish, what the critical parameters are, and where the corners can be cut. As a materials and process engineer, I try to understand systems as pieces and a whole; so I look at the ingredients, and how they contribute to and are affected by the brewing processes to make the best beer. My particular specialty is water chemistry and teaching people to understand how the ion profile in the water affects the mash pH and eventually, the beer flavor," he says.
His other Michigan Tech claim to fame? "I fell off Douglas Houghton Falls on Labor Day weekend in 1982. First weekend at school and missed the rest of fall quarter. No alcohol was involved with that," he says.
John, a regular Great American Beer Festival Judge, travels the world sharing his brewing know-how. Maybe he'll meet up with Beer Coyote in Singapore next month.
Beer and wine tours

A visit to all of our Michigan Tech alumni-led adult beverage businesses would take you from the Finger Lakes region of upstate New York to the Great Lakes State, through Wisconsin, Minnesota, out to California—and beyond, to Chile, where Kingston Family Vineyards this month welcomes visiting Tech student Clark Reisch. Clark was already planning to do some skiing in Chile when he came across the article mentioning the winery's Husky connection. Courtney Kingston, great grand-daughter of 1906 alumnus CJ Kingston, was happy to make arrangements.
Did we forget you? Not to worry. Keep those names coming. Contact us at alumni@mtu.edu.
Cheers!