Steven A. Walton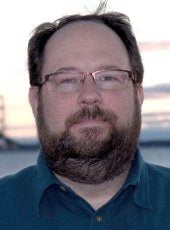 "I find it astonishing that any man can regard fine machinery without admiration."
—John William Stone (in Stones Fall, by Iain Pears)
Contact
906-487-3272
Academic Office Building 224
Connect
Associate Professor of History
Ph.D., University of Toronto, 1999
M.A., University of Toronto, 1994
M.S., California Inst. of Technology, 1992
B.S., Cornell University, 1991
Biography
I began my career as a mechanical engineer and then turned to the history of engineering through the history of science and technology. I am principally interested in the intersection of technology, its users, and the technical knowledge that they claim about it. Much of my work, though chronologically diverse, centers on military topics from arms and armor to artillery and the use of scientific instrumentation in war. My teaching focuses on the role of science and technology in the world and I teach on the history and philosophy of technology and science, as well as general courses in European history and military history.
I am currently at work on a number of projects:
a book-length study on the transition from castle to fortress in the British Isles in the mid-16th century.

This began as a study of Jaccopo Aconcio and his 1540s fortification treatise (which I found and edited, but then was subsequently scooped by an Italian team who also found it; oh well, it made me make this a more analytical work), but now looks at a series of fortifications and writings on fortifications from the 1520s to 1570s. The argument is that the codification of the trace italienne fortification, is not quite so straightforward nor as 'scientific' as it is usually taken to be. Aconcio's positions his treatise as an example of Renaissance method, providing a clue to the position of this new knowledge within English society.
I am also going to be publishing a modernized edition in the journal Fort: the journal of the Fortress Study Group in 2017

I am also editing a number of projects:

Lesley B. Cormack, Steven A. Walton, and John Schuster (eds.), Mathematical Practitioners and the Transformation of Natural Knowledge in Early Modern Europe (Springer, 2017) is out!
The Majestic Nature of the North, the travel journal of Thomas Kelah Wharton during his early career (New York 1832-35), and a trip from New Orleans to Boston (1853) is submitted and will appear from SUNY/Excelsior Press in 2018.
an edited volume on Lynn White Jr,'s Medieval Technology and Social Change at 50 is nearly to press with Routledge.
numerous studies related to American ordnance and the West Point Foundry

a paper on the earliest U.S. cannon foundries
a paper on the question of a national foundry in the US throughout the 19th century.
a paper on the art collection of Gouverneur Kemble (owner of the WPF)
And as if all that is not enough..
Links of Interest
Areas of Expertise
history of technology
history of science
artillery, fortification, ordnance
history of engineering
military history
Early Modern European history
Recent Publications
Steven A. Walton. 2013 "'My Works will be the Best in America': Peter Townsend's Cannon Foundry, 1815-25, 1815-25." New York State Museum Records, forthcoming 2017.
Steven A. Walton, "Machinery to Match the Materials: Iron Ore Washing in Pennsylvania," IA: Journal for the Society for Industrial Archaeology 41.1 (2017 [for 2015]): tba.
Steven A. Walton, "Technologies of Pow(d)er: Military Mathematical Practitioners' Strategies and Self-Presentation," in L. Cormack, S. Walton, and J. Schuster (eds.), Mathematical Practitioners and the Transformation of Natural Knowledge in Early Modern Europe, Studies in History and Philosophy of Science vol. 45 (Dordrecht: Springer, 2017), pp. 87-113. Date: 16 March 2017 Read More
Steven A. Walton. [2014] "Testing the Revolution in a Civil War: Developments in Heavy Artillery, 1830-1860," in Barton C. Hacker (ed.), Astride Two Ages: Technology in the American Civil War (Washington, DC: Smithsonian Institution Press, 2015), pp. ###. Read More
Steven A. Walton and Thomas E. Boothby. 2014. "What is straight cannot fall: Gothic architecture, Scholasticism, and dynamics," History of Science 52.4, no. 173 (2014): 347–376. Read More
Steven A. Walton. 2010. "State Building through Building for the State: domestic and foreign expertise in Tudor fortifications." In Expertise and the Early Modern State, edited by Eric Ash, Osiris 25 (2010): 66-84. Read More
Steven A. Walton. 2009 [2012]. "Founding a Foundry: the Diary of the Setting-Out of the West Point Foundry." Industrial Archaeology: Theme Issue: West Point Foundry 35.1/2: 25-38. Read More
Recent Funding
MTU Research Excellence Fund: "Discerning the Picturesque and the Industrial: Hudson River Social Networks in the Diaries of Ellen Kemble, 1845-1905" 2013-14
British Academy Small Research Grant [with Glenn Foard], "Origins of Firepower: Characterising the earliest surviving small field artillery and hand guns," July 2010-June 2012
Leverhulme Visiting Professor, University of Leeds, UK, July-Dec. 2009
Presentations
"Industrial Paternalism goes to School: Scientific and Technical Education in American Company Towns, 1840-1910," History of Science Society (HSS) meeting, Toronto, ON, 9-12 Nov. 2017
"For the Public Good? The Role of the State in the Promotion of Technology in the Long Nineteenth Century," Society for the History of Technology (SHOT) Annual Meeting, Philadelphia, PA, 26-29 Oct 2017
"Founding the Foundries: Networks of Technology Transfer and Circulation of Technical Experts in Antebellum American Cannon Foundries," ICHOTECH (at ICHS), Rio de Janiero, Brazil, 28 July 2017
"Offense and Defense in the Gunpowder Revolution," International Medieval Conference, Leeds, UK, 7-9 July 2016 (organizer: Steven A. Walton).
"The Rise and Fall of the Appropriate Technology Movement? How the social impacts the technical," D80 conference, Michigan Technological University, Houghton, MI, 24 October 2014 (Organizer: David Watkins).
"At the Arsenal Gate: Premodern military activity and the technologies of scale," Society for the History of Technology (SHOT) Annual Meeting, Albuquerque, NM, 6-8 Oct 2015 (Organizer: Daryl Hafter).
"Nineteenth-Century Iron Ore Washing, or, the oft-forgotten middle step between mine and furnace," Society for Industrial Archaeology, 44st Annual Conference, Albany, NY, 27-29 May 2015 (Organizer: Justin Spivey).
Teaching Experience
SS3505 - Military History of the United States
SS3550 - Europe to 1650
SS3551 - Europe since 1650
SS3552 - Renaissance & Reformation
SS3581 - History of Science
SS5500 - IA Proseminar: History of Technology (grad)
SS5503 - IA Proseminar: Material Culture Studies (grad)