Kari B. Henquinet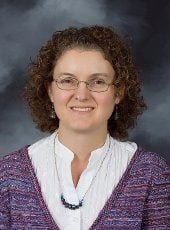 Director, Peace Corps Master's International Programs
Director, Peace Corps Prep Program
Senior Lecturer, Department of Social Sciences
PhD, Michigan State University, 2007
MA, Anthropology, Michigan State University, 2003
BA, Interdisciplinary Studies, Wheaton College, 1996
AREAS OF SPECIALIZATION
Gender, Women's Rights and Household Livelihoods in Niger
I apply my ethnographic experience and training as a West Africa Area Studies specialist in the study of gender relations and women's rights by examining prominent transnational aid institutions in Niger. This research highlights: 1) changes in gender roles and access to resources connected to material and religious change in the Maradi Region, 2) ways in which women's rights, gender, and class are understood and applied in development programs and among aid recipients, and 3) discourses of women's rights and Islamic family law in the Maradi Region and in Niger. I extend this work with my students by teaching an undergraduate African Histories and Cultures course and working closely with Peace Corps Master's International students who are designing research using household data collection and ethnography, and research examining social vulnerability and gender issues.
Historical Roots of North American Evangelical Aid and Development
Using archival data and oral histories, I use the case of World Vision in the 1950s and 1960s to look at roots of private voluntary evangelical relief and development work in an age of the "development consensus" and large-scale state-directed development. The three papers I am developing focus on: 1) the convergence and divergence of early World Vision with U.S. work abroad in the Cold War, highlighting the common notion of remaking vulnerable Third World Subjects and institutions, yet distinct temporal frames between the two approaches; 2) ways in which notions of freedom and the liberal self in American liberalisms articulate with approaches to humanitarian and development work in the Cold War period, and 3) the use of child sponsorship as a successful fundraising tool in World Vision, which triggered emotional and moral responses in North American evangelical donors. I integrate this expertise in my teaching and advising of Peace Corps Master's International students as we examine the historical context of U.S. engagements abroad and development institutions.
Cross-cultural and Service-Learning Student Experiences
My own transformational experiences through guided cross-cultural and service-oriented immersion as a student have sparked a passion to continue to develop these kinds of programs for my students. As Director of ten Peace Corps Master's International (PCMI) Michigan Tech Programs (the largest collection of programs and number of overseas PCMI students in the nation), I coordinate campus-wide efforts to prepare our students for international service and for careers as global leaders in their fields. I have developed and annually teach a course in Cultural Dimensions of International Immersion and Research that all Peace Corps Master's International students must take and other graduate students preparing for field research may elect. I am currently collecting data to better understand our students' experiences and development in terms of intercultural competency and understandings of social problems, using qualitative interviews and student work as well as the Intercultural Development Inventory. I currently serve on the Global Literacy Goal Committee for the University to advise and oversee program development and assessment in this area.
Links of Interest
Areas of Expertise
International/transnational development
Faith-based development
Gender
Human rights
Global service learning
African studies (Niger)
Recent Publications
Baziari, Fahimeh M; Kari B Henquinet; Molly A Cavaleri (2017). Understanding Farmers' Perceptions and the Effects of Shea (Vitellaria paradoxa) Tree Distribution in Agroforestry Parklands in the Upper West Region, Ghana. Agroforestry Systems 1-14.

Read More

Henquinet, Kari B. (2017). Book review of AIDS and Masculinity in the African City: Privilege, Inequality, and Modern Manhood. Robert Wyrod. Oakland: University of California Press, 2016. American Ethnologist 44(4):713-714.
Henquinet, Kari B. (2017). Women's Rights and Transnational Aid Programs in Niger: The Conundrums and Possibilities of Neoliberalism and Legal Pluralism. In Human Rights Encounter Legal Pluralism. Eva Brems, Giselle Corradi and Mark Goodale, eds. Oxford: Hart Publishing. Read More
Henquinet, Kari B. (2016) Production of Knowledge: International Development Agencies: Sahelian West Africa. In Encyclopedia of Women and Islamic Cultures. Suad Joseph, ed. Leiden: Brill. Read More
Henquinet, Kari B. (2016). Cultivating Empathy in University-Peace Corps Partnerships. International Educator (Jan/Feb). Read More
Henquinet, Kari. (2016). Humanitarian Engineering. Michigan Tech Magazine 53(1):12-13. Read More
Bowman, Luke J. and Kari B. Henquinet. (2015). Disaster risk reduction at San Vicente (Chichontepec) Volcano, El Salvador: toward understanding social and geophysical vulnerability. Journal of Applied Volcanology 4(14):1-18. Read More
Henquinet, Kari B. (2014). "Reformulating Participation in Nigerien Development Programs: An Examination of Conflicting Messages Concerning Gender and Class." In Beyond The Boundaries: Toyin Falola and the Art Of Genre-Bending. Nana Amponsah, ed. Trenton, NJ: Africa World Press. Read More
Henquinet, Kari Bergstrom. (2013). "Translating Women's Rights in Niger: What Happened to the 'Radical Challenge to Patriarchy?'" In Worlds of Human Rights: The Ambiguities of Rights Claiming in Africa. Bill Derman, Anne Hellum, and Kristin Bergtora Sandvik, eds. Leiden: Brill. Read More
Henquinet, Kari Bergstrom. (2007). "The Rise of Wife Seclusion in Rural South-Central Niger." Ethnology 46(1):57-80.
Bergstrom, Kari. (2002). "Legacies of Colonialism and Islam for Hausa Women: An Historical Analysis, 1804 to 1960." WID Working Paper 276. East Lansing, MI: Women and International Development, Michigan State University. Read More
Recent Funding
Research Excellence Fund Scholarship & Creativity Grant, Michigan Technological University, Summer and Fall 2012. Principle Investigator. Funded $5300 for field work on project "Evangelicals and Global Poverty after WWII: Bob Pierce?s Encounters with Global Poverty 1947-1967."
Fulbright-Hays Doctoral Dissertation Research Abroad Grant, U.S. Department of Education, funded dissertation field research in Niger on "Foreign Aid and Gender in Niger: A Study of Local Interactions with Gender Policies in Transnational Aid Institutions," 2003-2004.
Presentations
2016 "Exploring Roots of Neoliberal and Faith-Based Development: Evangelical Christians and Modernization Theorists in Wartime Korea and Vietnam." American Anthropological Association Annual Meeting, Minneapolis, November
2016 "Designing Curriculum to Enhance Experiential Learning Abroad." NAFSA Annual Conference, Presentation for Poster Session Enhancing Learning Before, During, and After Education Abroad. Denver, CO, June
2014 "Child Sponsorship, Saving Lives, and Fundraising: Sharing the Face of Suffering with Mid-20th Century Evangelical America." American Anthropological Association 2014 Annual Meeting, Washington, D.C., December
2013 "Engaging Mid-20th Century Liberalisms: World Vision and Neo-evangelical Private Voluntary Aid Abroad." American Anthropological Association 2013 Annual Meeting, Chicago, November
2013 "Roots of Neo-evangelical Development Institutions and Visions of Modernity: The Case of World Vision (1950-1967)." Society for Applied Anthropology 2013 Annual Meeting, Denver, March
2009 "Neoliberalism, Gender, and Adaptations of Transnational Aid Organizations in Niger." American Anthropological Association Annual Meetings, Philadelphia, December
2008 "Gender, Neoliberalism, and Adaptations of Transnational Aid Organizations in Niger." African Studies Association 51st Annual Meeting, Chicago, November
2007 "Translating Gender and Rights in Niger: What Happened to the "Radical Challenge to Patriarchy??" American Anthropological Association Annual Meetings, Washington, D.C., November
Research Projects
"Evangelicals and Global Poverty after WWII: Bob Pierce?s Encounters with Global Poverty 1947-1967" explores the rise of American neo-evangelicalism and how, using the case of World Vision and its founder, neo-evangelical understandings of poverty, modernity, and vulnerability converge and diverge with modernization theory and U.S. foreign aid in the post-WWII period.
"Peace Corps Master's International Student Cross-Cultural Encounters, Transformative Learning, and Understandings of Culture" draws on literature in study abroad, education, global service learning, and anthropology to examine ways in which Peace Corps students experience dissonance in new cultural contexts and develop understandings of culture. I am interested in when and how their experiences lead to improved understandings of poverty, social problems, and culture, and when these experiences reinforce or enhance ethnocentric views of student-volunteers.
"Gender, Rights, Development and Islam: Interfaces with Transnational Aid Organizations in Niger" examines translation, reformulation, and rejection of transnational gender and rights-based development interventions. Using CARE and UNICEF as case studies, I explore how personnel, partners, and aid recipients of these organizations reinforce and challenge social norms and hierarchies through constant negotiations with patriarchy, Islam, "tradition," and multiple conceptions of rights. This research is ethnographic, multi-sited, and in the Hausa and French languages.
Teaching Experience
HON 4150 - Pavlis Honors College Seminar III
SS 3961 - Preparing for Cross-Cultural Immersion
SS 5201 – Cultural Dimensions of International Immersion and Research
SS 4030 – Senior Seminar in Anthropology
SS 3910 – Histories and Cultures of Africa
UN 1025 - Global Issues
SS 5010 - Development Institutions and Culture
UN 1001 - Global Poverty (Perspectives on Inquiry First Year Seminar)
SS 3211 - Ethnographic Methods
SS 3410 - World Resources and Development
SS 4010 - Social Science Methods
SS 2100 - World Peoples and Environments
SS 3750 - Social Inequality
ENG 5520 - Sustainable Futures 2 (co-instructor)