Dan Fuhrmann Named Dave House Professor in Computer Engineering
By Jennifer Donovan | Published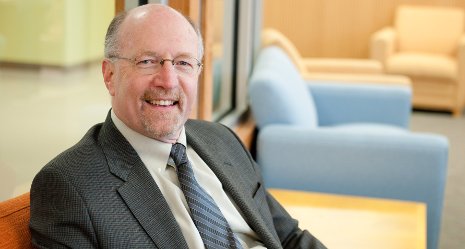 Michigan Technological University has named Dan Fuhrmann to the Dave House Professorship in Computer Engineering. Fuhrmann is chair of Michigan Tech's Department of Electrical and Computer Engineering (ECE).
"As current chair of the ECE Department, Dan Fuhrmann exemplifies the qualities we would look for in the holder of the Dave House Professorship," a selection committee noted in its recommendation to the Dean of Engineering. "Dr. Fuhrmann has been active in research since joining Michigan Tech in 2008 … along with publishing numerous journal articles, conference proceedings and a book. [He] was named a Fellow of the IEEE in 2009 for contributions to adaptive radar signaling. He has been a leader in the Michigan Tech community …"
College of Engineering Interim Dean Wayne Pennington said: "The House Professorships are awarded only to the most influential and forward-thinking members of the Michigan Tech community. Dan Fuhrmann has shown tremendous insight and innovation, not only as chair of the Electrical and Computer Engineering Department, but also as one who seeks collaboration that knows no bureaucratic boundaries. I am very pleased to see him receive this well-deserved honor."
In his six years as chair of ECE, Fuhrmann has spearheaded several interdisciplinary and interdepartmental initiatives, including the Williams Center for Computer Sustems Research, the Smart Grid Control Center, a Women in Engineering Center and a proposed Alliance for Computing, Information and Automation. He co-chaired the strategic faculty hiring initiative in computational discovery and innovation.
"Dave House is an extraordinary friend of Michigan Tech, and he has been a wonderful mentor for me these past six years," Fuhrmann said. "I feel honored and fortunate to have his good name associated with my position here."
House, a 1965 graduate of Michigan Tech, has endowed several faculty positions at the University as well as the Michigan Tech Research Institute Dave House Center in Ann Arbor. A former Intel executive, he chaired the Generations of Discovery capital campaign that raised more than its goal of $200 million.
Michigan Technological University is a public research university, home to more than 7,000 students from 54 countries. Founded in 1885, the University offers more than 120 undergraduate and graduate degree programs in science and technology, engineering, forestry, business and economics, health professions, humanities, mathematics, and social sciences. Our campus in Michigan's Upper Peninsula overlooks the Keweenaw Waterway and is just a few miles from Lake Superior.