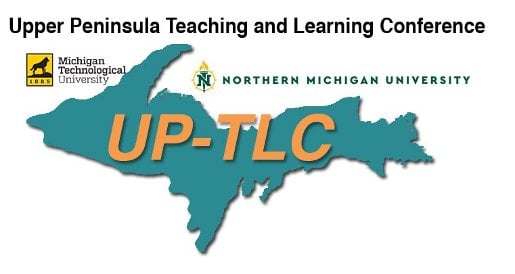 Second Annual 2018 UPTLC at Northern Michigan University
"Toward Superior Teaching"
Friday, May 11, 2018
Click here for Call for Proposals and More information
---
First Annual UPTLC held at Michigan Technological University
Friday, May 5, 2017
Michigan Technological University
1400 Townsend Drive, Houghton, MI, 49931
The first annual Upper Peninsula Teaching and Learning Conference will be held on Thursday May 4 and Friday, May 5, 2017 at Michigan Technological University in Houghton, MI. We hope to attract more than 100 university educators from UP universities for presentations on higher education teaching best practice and networking.
Four tracks of sessions will be held concurrently, with a focus on:
Active Learning
Assessment
Online Learning
Other issues in Higher Ed Teaching
Session presenters are outstanding teachers who have been recruited by the William G. Jackson Center for Teaching and Learning at Michigan Tech and the NMU Center for Teaching and Learning.
Keynote Address
Dynamic Lecturing
Friday, May 5, 2017, at 11:30 a.m.
Come explore how to maximize the effectiveness of your lecture by activating prior knowledge, zooming in on the most important concepts, integrating brief opportunities to reflect and process information, effectively using multi-media, and incorporating retrieval practice opportunities. You'll walk away with several easy to implement strategies designed to increase learning.
A licensed psychologist and Professor of History and Social Sciences at Middlesex County College and director of their Center for the Enrichment of Learning and Teaching and author of "Student Success in College: Doing What Works!"
---
Schedule
All times are Eastern Daylight Time.
Thursday, May 4
in Rekhi Hall, Room G005, The Jackson Active Learning Classroom
Pre-Conference Workshop, 3–5 p.m. Thursday, May 4 ($20.00 additional fee)
Dr. Christine Harrington will present "The Science of Motivating Students: Doing What Works!"
Perhaps one of the most important student success factors is motivation, yet faculty members often struggle with how to best motivate students and ultimately influence student learning. Theory and research on student motivation will come alive in this interactive workshop. The focus will be on how motivational theory and interesting findings from research studies can be used to positively influence student learning, putting research into immediate practice in your college classroom and institution. Come and learn what works!
Friday, May 5
---
Registration and Fees
Registration for Michigan Tech Instructors and Graduate Teaching Assistants will be supported by their department. All Michigan Tech participants should register here.
All other participants should register and pay here.

General Registration $50
Graduate Student Registration $25
Cost includes conference sessions and materials, snacks between concurrent sessions, and lunch during the keynote address. Registrations may be cancelled and refunded (or departments not billed) prior to April 26, 2017. No registrations will be refunded after this date. Registration closes at 5 p.m. (EDT) on Friday, April 28, 2017. Those requiring accommodations in accordance with the Americans with Disabilities Act, or have special dietary needs should notify Nancy Seely (nsseely@mtu.edu) no later than April 14.
On-Site Conference Information
Parking

Parking is available in Visitor Lot 27 for $3.00 daily. Cash only. (Bills and coins accepted. Exact change recommended as no change will be given.) Vehicles parked in other lots or unpaid metered spaces may be ticketed.

Facility
Michigan Technological University is a tobacco free, smoke free, and vapor free campus. For more information, see the Tobacco and E-cigarette-free Campus Initiative.