Our work in the community continues with the 28th annual Bioathlon, high school visits, HOSA regional competition, and summer youth programs.
28th Annual Bioathlon
The Bioathlon is our largest outreach event each year. Teams from 12 Upper Peninsula high schools participated in the day-long competition this year. The winning team was A.D. Johnston High School in Bessemer. Second place went to Marquette and third place to Calumet. All teams tackled these same four problems: dissection of a bull frog, microbe analysis, ecology field identification, and basic medical laboratory techniques.
High School Visits
During the spring semester, local high school classes are invited to visit our campus. Visits include attending our anatomy and physiology lecture, hands-on activities with current college students, lunch at Wadsworth Hall, and meeting with our faculty to discuss careers. This past year, more than 150 high school students from six different schools were able to visit the campus.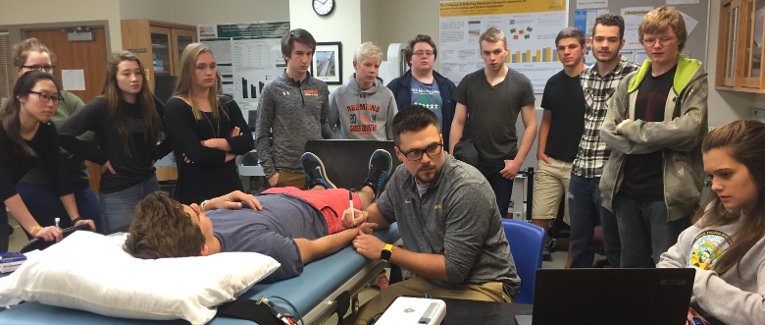 HOSA Regional Competition
This year we traveled to the regional Health Occupations Students of America (HOSA) Regional Competition at Marquette High School. Afterwards, we invited local HOSA students to come to our lab to learn more about opportunities in medical laboratory science.
Michigan Technological University is a public research university, home to more than 7,000 students from 54 countries around the world. Founded in 1885, the University offers more than 120 undergraduate and graduate degree programs in science and technology, engineering, forestry, business and economics, health professions, humanities, mathematics, and social sciences. Our beautiful campus in Michigan's Upper Peninsula overlooks the Keweenaw Waterway and is just a few miles from Lake Superior.
---