We have a lot of news to pass on, including faculty and staff changes to facilities upgrades and scholarship winners.
New Faculty
Stephen Techtmann
Dr. Techtmann joined the Department of Biological Sciences as an assistant professor in 2015. He comes to Michigan Tech from the University of Tennessee, where he was a postdoctoral research associate. Techtmann earned a PhD in Molecular and Cell Biology from the University of Maryland, Baltimore, in 2009. His research is focused on how complex microbial communities can cooperate to perform functions of industrial interest, to understand how these microbial communities respond to anthropogenic activity and environmental change.
Xiaohu Tang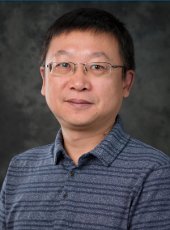 Dr. Tang joined the Department of Biological Sciences as an assistant professor in 2016. He received his PhD in Life Science from The Weizmann Institute of Science, Israel, in 2006. His research interests are to identify metabolic alterations in cancer and other diseases, to understand how those alterations interfere with normal cellular function and lead to or promote disease progression, and to develop nutrition interventions and new therapies to prevent and treat cancer and other diseases.
Gordon Paterson
Dr. Paterson joined the Department of Biological Sciences as an assistant professor in January 2017. He comes to Michigan Tech from the State University of New York, where he was an assistant professor. Paterson earned a PhD in Biology from the University of Windsor in 2006. Paterson's research focuses on the effects of environmental stressors and anthropogenic activities on the bioaccumulation of toxins and exposure of aquatic organisms to legacy and emerging environmental pollutants.
New Staff
Tori Connors, Departmental Coordinator
Tori Connors joined the Department of Biological Sciences in December 2016. She has worked at Michigan Tech for the past 10 years, most recently in Mathematical Sciences and The Waino Wahtera Center for Student Success. She graduated from Michigan Tech with a BS in Social Sciences - History in 2015.
Kelsey Johnson, MLS Practicum Coordinator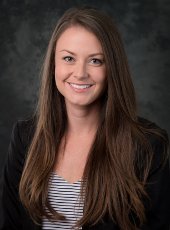 Kelsey Johnson earned her BS in Clinical Laboratory Science from Northern Michigan University in 2013 and her MBA from Michigan Tech in 2016. She worked as a medical technologist at Keweenaw Aspirus Hospital and UP Health Systems Portage. After two years assisting the Medical Laboratory Science program in the accreditation process, she joined the department full-time in 2017.
Marc Madigan, Academic Advisor
Marc Madigan graduated from Michigan Tech with a BS in Biological Sciences in 2011 and received his MAE from Northern Michigan University in 2016. He worked for Gogebic Community College, Keweenaw Bay Ojibwa Community College, and Minnesota State Community & Technical College in various roles before returning to Michigan Tech as an academic advisor in December 2016.
Travis Wakeham, Laboratory Supervisor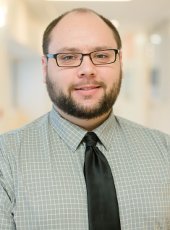 Travis Wakeham became our new laboratory supervisor in December 2016. He completed his BS and is currently pursuing an MS in Biological Sciences at Michigan Tech, along with a certificate in STEM education. Travis is a native Yooper and is excited to be able to stay at his alma mater in his new position!
Faculty Promotions and Tenure
Congratulations to the following Department of Biological Sciences members who were promoted recently:
Brigitte Morin was promoted to senior lecturer
Xiaoqing Tang was promoted to associate professor with tenure
Guiliang Tang was promoted to full professor
Brigitte Morin – Finalist for 2017 Distinguished Teaching Award
Brigitte Morin, senior lecturer in the Department of Biological Sciences, was a finalist for the 2017 Distinguished Teaching Award. Congratulations Brigitte!
Facilities Upgrades
In the last two years, the Department of Biological Sciences invested more than $100,000 in upgrades to our teaching and research labs. Here are some of the highlights:
In summer 2016, we completely remodeled our anatomy and physiology teaching labs.
The department procured new centrifuges and heating baths for our medical laboratory science teaching labs.
We equipped our general biology and microbiology labs with new microscopes that have the ability to connect with the classroom projectors and take screen captures.
We acquired a new Laminar flow hood, thermal cyclers, incubator shakers, and other tools for the biochemistry and molecular biology labs.
We added two new automated castle autoclaves on the fifth floor of the Dow building to serve our teaching and research labs.
Dow 708 is currently undergoing renovations. The space will be used to create a high-end computing lab, with computers equipped with programs and statistical packages to support our research labs.
Biological Sciences Learning Center Update
This year the Biological Sciences Learning Center (BLC) was renovated. Brigitte Morin (pictured), senior lecturer in medical laboratory science, stepped in as the new BLC director, and comfy couches and free coffee set a new tone for the space.
The goal to make the BLC a warm, inviting spot for students to find success was furthered by hiring new coaches with diverse backgrounds, including biomedical engineering, ecology, and pre-health. This past year saw the graduation of six seniors, leaving behind nine new and experienced coaches who are excited to work with our undergraduates this fall and next spring. Coaches are excited for their chance to work with the BL1010-General Biology I students to set the groundwork for many first-year students (as well as others) to deepen their passion for biology. Initiatives moving into the 2017-18 school year include pre-professional school entrance exam study sessions, anatomy "art nights," and study groups for the diverse courses the students are taking. Both coaches and instructors are looking forward to a strong start of the new school year.
Jim Spain Heritage Atrium Inauguration
Thanks to a generous gift from Dr. Jim Spain and Ms. Patricia Spain, the newly renovated Dow seventh-floor atrium was opened to students in September 2016. Students can now enjoy the view of the Keweenaw Waterway and listen to the relaxing sound of the waterfall. Dr. Spain was the first head of the department when it was founded in 1962.
Goodbyes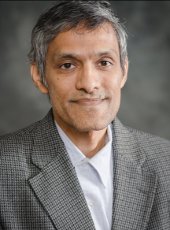 In fall 2015, Associate Professor Ramakrishna Wusirika joined the Centre of Plant Sciences at Central University, Bathinda, India. He joined the Department of Biological Sciences at Michigan Tech in 2003. He published many papers each year and advised several graduate students. Rama was also very active on the service front. He will continue to serve as an adjunct faculty in our department.
Stacy Cotey served as the academic advisor for the Department of Biological Sciences for more than eight years. In fall 2016, she accepted a similar position in Michigan Tech's School of Forest Resources and Environmental Science. We wish her all the best!
Jeff Lewin, a long-time member of the Department of Biological Sciences, recently took a new role as Michigan Tech's chemical safety officer. Jeff was part of our department for more than 25 years as a graduate research assistant, faculty assistant, laboratory associate, laboratory supervisor, chemical hygiene officer, safety liaison, and equipment coordinator. He was very important for the well-being of this department.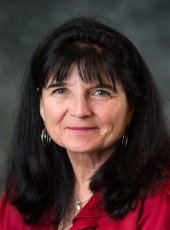 Patty Asselin retired in fall 2016 after 28 years of service as department coordinator. She was instrumental in maintaining institutional memory of what happened and when. She also cared for all students and even cooked for them. They always talked to her about their lives and dreams. Patty was very good at multitasking and had time for social work in addition to her regular duties. She is currently enjoying her retired life.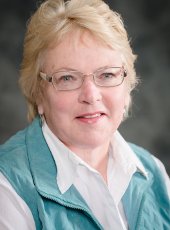 Professor Nancy Auer retired at the end of spring 2017 after 33 years of service. She is well known for her research on the restoration of iconic Great Lakes species such as Lake Sturgeon and Arctic Grayling. Her book on larval fishes of the Great Lakes remains the standard reference, and her recent book "The Great Lake Sturgeon," co-edited with Dave Dempsey, was recognized as a Michigan Notable Book. She will continue to serve as emerita research professor in our department.
Obituary—Ron Gratz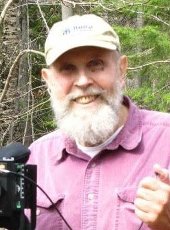 It is with profound sadness that we inform you that Emeritus Professor Ron Gratz passed away recently. Dr. Gratz joined Michigan Tech in 1978 after completing his doctorate in zoology from the University of Oklahoma. His area of research was animal and respiratory physiology. He taught anatomy and physiology, cardiopulmonary physiology, and introduction to pre-health professions during his time at Michigan Tech. He also served as the advisor for pre-health students for more than 30 years and established the Peace Corps Masters International Program in the Department of Biological Sciences.
After his retirement in 2011, he often visited the department. We will miss his cheerful presence at various departmental gatherings.
Michigan Technological University is a public research university, home to more than 7,000 students from 54 countries around the world. Founded in 1885, the University offers more than 120 undergraduate and graduate degree programs in science and technology, engineering, forestry, business and economics, health professions, humanities, mathematics, and social sciences. Our beautiful campus in Michigan's Upper Peninsula overlooks the Keweenaw Waterway and is just a few miles from Lake Superior.
---