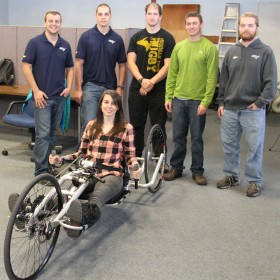 We celebrated World Usability Day Thursday. Held all over the globe, it highlights the importance of humans as participants in technology. Sounds like just the job for Tech students, and many projects on campus proved that point.
We started with a driving simulator, staffed by Jason Sterkenburg, a master's student in applied cognitive sciences and human factors. He was joined by Angela Becia, a management and marketing major who was putting the "Chevy" through the paces.
"We are looking at a couple of factors," Sterkenburg said. "Emotional driving, like being in an angry state, and secondary tasks that affect driving performance, like drinking coffee and other things that can distract drivers."
They use EEG's as part of the emotional state testing, looking at heart rate while the drivers search the visual field, and facial details and other physiological features.
As I can attest, the simulator was much harder than it looked, and although I didn't get angry, I was a lot worse driving it than I was on the road (I hope).
In the EERC, a wall of monitors was transformed into a sliced globe and a keyboard. On the wall of globes a wand could be waved over different nations to hear various languages welcome you to Michigan Tech, and you could choose between male and female voices by flipping the wand.
Steve Landry, a master's student in psychology, was showing how a massive keyboard worked, too. Stepping on different parts of the floor, with different emphasis, he played and changed musical notes and tones.
Ultimately, Philart Jeon, an assistant professor in cognitive and learning sciences, wants to bring in dancers whose moves will create different notes.
"Instead of dancing to music, they will be creating new music when they move," Jeon said.
In the Meese Center, a bevy of labs were busy. Yuanjing Sun showed me auditory menus, so the vision impaired could make their way around a computer interface. Menu options would speak out, making it easier to find  links, including an ingenious alphabetical list of names that would sound off.
Nearby, Shabnam  Hosseini was wearing a blindfold and a belt that looked liked Batman's. The belt emitted sound waves to warn her when she got close to a wall.
"It vibrates, too," she said. "The closer I get to the wall, the sound and vibration increase."
Elsewhere, an iPod-driven mini-robot was buzzing around looking for someone to play with. Targeting children with autism, the little bot will help them with emotional and social interactions, especially when the research is recorded by several cameras and fine-tuned.
Finally, Strong Arm, a student team working on a hand-cycle for wounded veterans, had improved upon previous Senior Capstone Design projects on the bike. Strong Arm is refining it for reliability, performance, and cost effectiveness. The hand-cycle was tested at this year's Detroit Free Press Marathon and was featured in last year's Army-Navy football game.
"WUD UP [World Usability Day UP] gets a little bigger and a little broader every year," said Charles Wallace, associate professor of computer science and coordinator of the day. "We had a great mix of events and participants. It is inspiring to see the range of efforts that people are undertaking to make technology serve humans better. It's clear that usability is key to making life healthier, more productive, and more fulfilling. I hope that WUD UP helps to spread this message further."
As I walked back to the office, I was impressed, again, but what our students and faculty are doing on campus, and so much of it has a noble purpose.
Dennis '92 '09
Snowfall Totals
I just can't. We still have leaves to rake.