In short: The hair of the tick that bit you. There are plenty of reasons to be mad at this small arachnid, but close-up they're undeniably fascinating.
'Tis the season for tick checks. This 35-micron-long hair on the leg of a dog tick (Dermacentor variabilis) is a spike-like feature that helps it find, grasp, and climb onto hosts. Ticks may not fly—or even jump that far—but they do what's called "questing", and by waving their third and fourth legs like they're at a rock concert, they're better able to hitch a ride. However, ticks are fickle about humidity and temperature, and will hide under leaf litter to stay damp. To keep ticks off your own legs, keep them covered on hikes and check for hitchhikers after. Nymphs of the Lyme disease-carrying deer tick (Ixodes scapularis) may be only one to two millimeters across, about the size of a pinhead.
This photo was taken by Jeffrey Brookins on a scanning electron microscope. It placed as a runner-up in the JEOL's 2016 SEM/TEM/EPMA Image Contest.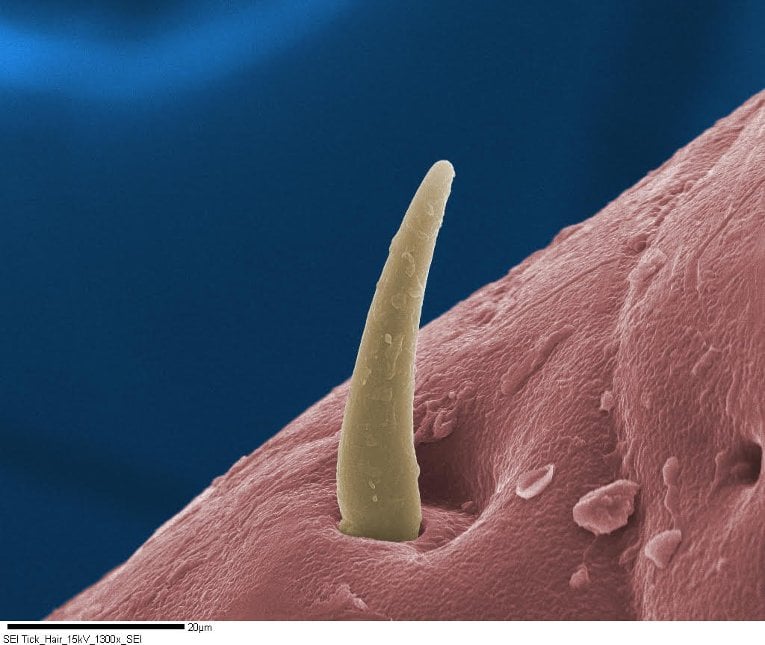 Michigan Technological University is a public research university, home to more than 7,000 students from 54 countries. Founded in 1885, the University offers more than 120 undergraduate and graduate degree programs in science and technology, engineering, forestry, business and economics, health professions, humanities, mathematics, and social sciences. Our campus in Michigan's Upper Peninsula overlooks the Keweenaw Waterway and is just a few miles from Lake Superior.