Steel Bridge Team Qualifies for National Competition
By Marcia Goodrich | Published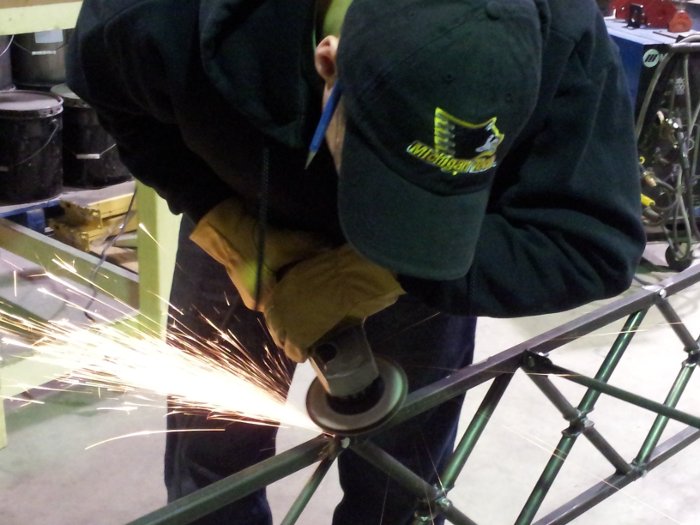 Michigan Technological University's team took a silver in the regional qualifier for the 2013 National Student Steel Bridge Competition. As a result, it will be competing in the national event, set for May 31-June 1 at the University of Washington, in Seattle.
"We took first in aesthetics and economy and second overall," said co-captain Nate Schulz, a junior majoring in civil engineering.
Sponsored by the American Institute of Steel Construction and the American Society of Civil Engineers, the contest challenges future civil engineers to display their skills in steel design, steel fabrication and teamwork. This year the North Central Regional Conference event was sponsored by Michigan Tech and held April 6-8 at the Houghton County Arena in Hancock. Michigan State finished first among the seven participating teams.
In 2012, Michigan Tech placed fourth in the nation and in 2011 nabbed second. But the team can't expect to rest on its laurels. Every year, the competition changes.
"This year, they banned our interlocking connections, so we had to come up with another design," said Schulz.
Unlike many collegiate engineering competitions, Steel Bridge requires students to design and build their product from scratch. After converting their design to shop drawings, teams build the structure piece by piece. This year, the team managed to complete their project in two months, after moving into new shop space and installing new equipment.
"We do all the fabrication ourselves, so you learn to weld, grind, and do all sorts of interesting things that are not usually offered through the coursework," Schulz said. "Our group is mostly civils, but we would welcome other majors, especially those wanting a little hands-on experience."
This year, the bridge was 16 feet long and 31 inches tall. Students had to fabricate modular units, or members, that can fit in a box measuring 3 feet by 6 inches by 4 inches. The members are then assembled into the bridge on site. "That's our challenge, to design the bridge around those constraints and others," Schulz said.
Bridges are judged on a variety of qualities, including lightness, economy, appearance and various measures of strength and stability. "We also have to build it as quickly as possible, because that comes into play with how economical they would be," he said.
Schulz admits to being a little disappointed with the team's second-place finish, but he's optimistic about the future. "We can edit the bridge between now and the nationals, and I feel like our chances of doing well are pretty good."
Michigan Tech's Steel Bridge team members are pictured in the slide show accompanying this article. They are, left to right, Brandon Abel, Kyle Gillean, Woody Beardsley, Nate Schulz, Alex Brown, Tyler Tomlinson, Joe Schmitt, DJ Vanslembrouck, Chad Skrocki, Anna VanderKooi, Wes Karras, David Froster, Kyle Pfiefer, Nick Toomey, Ellen Englund and Rachelle Wiegand.
The slide show photographer was Anna VanderKooi.
Michigan Technological University is a public research university, home to more than 7,000 students from 54 countries. Founded in 1885, the University offers more than 120 undergraduate and graduate degree programs in science and technology, engineering, forestry, business and economics, health professions, humanities, mathematics, and social sciences. Our campus in Michigan's Upper Peninsula overlooks the Keweenaw Waterway and is just a few miles from Lake Superior.