Public Invited to View the Sleds of Tomorrow at Clean Snowmobile Challenge
By Marcia Goodrich | Published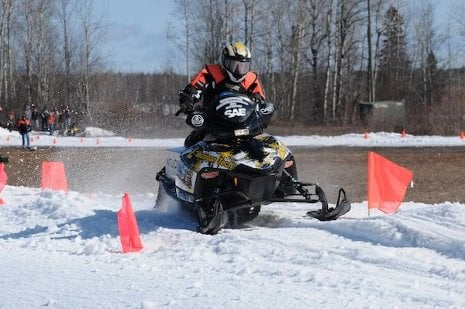 Anyone with an interest in snowmobiling or advanced technology will find plenty of opportunities to enjoy the 2011 SAE Clean Snowmobile Challenge, set for March 7-12 at Michigan Technological University's Keweenaw Research Center (KRC).
The Clean Snowmobile Challenge is a collegiate design competition of the Society of Automotive Engineers. Engineering students from participating schools across North America take a stock snowmobile and reengineer it. Their aim: to reduce emissions and noise while maintaining or boosting performance.
The public is welcome at the Grand Opening ceremony, scheduled to begin at 10 a.m. on Tuesday, March 8, at KRC, located near the Houghton County Memorial Airport. Immediately afterward, snowmobiles in the internal combustion category head out for the Endurance Run, which includes laps around KRC's track and then a ride along area snowmobile trails to Copper Harbor. At the same time, the battery-powered sleds in the zero-emissions category will undergo the range test, to see which sled can travel the farthest on a single charge.
The Snowmobile Public Display is the best time to see the sleds up close and talk with the young engineers who built them. Twenty snowmobiles and their student designers will be at the Copper Country Mall on Wednesday, March 9, from 6 to 8 p.m. In addition, about 40 sponsors will be on hand to provide information on their products and services.
Also at the public display, everyone is invited to learn more about electric and hybrid vehicles, courtesy of an educational trailer provided by the US Department of Energy. "It's a classroom on wheels," said Challenge co-organizer Jay Meldrum, and it's particularly relevant considering the Challenge's aim of reducing fuel consumption and emissions.
On Saturday, March 12, the public is invited to the Polaris Acceleration Event at 10 a.m. and the Polaris Objective Handling Event at 11 a.m., both at the KRC Test Course, when student riders will put their machines through their paces. Refreshments are available, and sponsor HB Performance Systems will provide free brats. No seating is provided, and the course is a short walk from the road on snow.
Challenge winners will be announced at the Awards Banquet, set for Saturday, March 12, at 6:30 p.m. in the Memorial Union Ballroom on the Michigan Tech campus. Tickets are $25 and may be bought at the door or reserved by calling 487-2750.
For more information on the Clean Snowmobile Challenge, visit www.mtu.edu/snowmobile . The Challenge is cosponsored at Michigan Tech by KRC and the Department of Mechanical Engineering–Engineering Mechanics.
Michigan Technological University is a public research university, home to more than 7,000 students from 60 countries. Founded in 1885, the University offers more than 120 undergraduate and graduate degree programs in science and technology, engineering, forestry, business and economics, health professions, humanities, mathematics, and social sciences. Our campus in Michigan's Upper Peninsula overlooks the Keweenaw Waterway and is just a few miles from Lake Superior.