Parade of Nations Set for Saturday, Sept. 18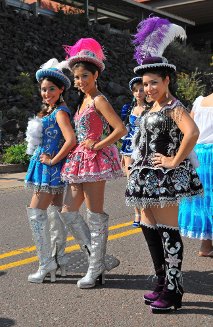 Three festive participants in the 2009 Parade of Nations
September 15, 2010—
This Saturday, Sept. 18, Michigan Technological University will hold its annual Parade of Nations. The event, celebrating its 21st year, features representation from more than 80 nations and cultural organizations by students, staff and faculty from both Michigan Tech and Finlandia University.
This year, the parade's theme is "Many Nations—One Heart." Parade participants will will march through the streets of downtown Houghton and Hancock while displaying the flag of their nation and wearing traditional dress.
The parade is scheduled to start at 11 a.m. at Hancock Middle School and will conclude at Dee Stadium in Houghton. Following the parade, the public can enjoy a variety of ethnic foods, music and crafts at the Multicultural Food and Music Festival, also at Dee Stadium. The Cass Tech Marching Band will march in the parade, perform at the Multicultural Food and Music Festival, and entertain during half-time at Saturday's Michigan Tech football game against Wayne State University, which begins at 1 p.m. at Sherman Field.
Free shuttle services will be provided by the City of Houghton. Shuttles will leave the Memorial Union Building from 9:30 a.m. to 10:30 a.m.
Michigan Technological University (www.mtu.edu) is a leading public research university developing new technologies and preparing students to create the future for a prosperous and sustainable world. Michigan Tech offers more than 120 undergraduate and graduate degree programs in engineering; forest resources; computing; technology; business; economics; natural, physical and environmental sciences; arts; humanities; and social sciences.