Bridges in Trouble: Diagnosing Their Ills from a Distance
By Marcia Goodrich | Published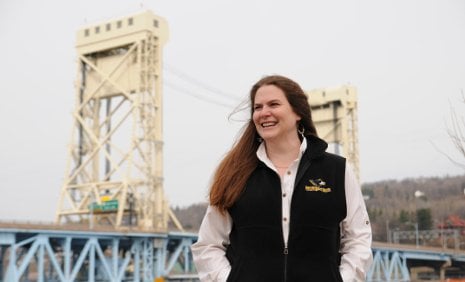 Tess Ahlborn believes we could learn a lot from bridges, if only we could hear what they have to say. Now, she aims to find the best ways to listen in.
Ahlborn, a professor of civil and environmental engineering, leads a team of two dozen Michigan Technological University researchers working to identify the best remote-sensing technologies for monitoring the health of bridges. The goal of the $2.8 million project goes beyond preventing disasters like the one that befell Minneapolis's I-35W bridge in August 2007. "We hope this will help decision makers make informed choices about what bridge should be repaired next."
And there are so many choices. "Our bridges are in rotten condition," she says. "The US got a grade of C overall on the condition of its bridges, and Michigan got a whopping D."
Ahlborn's project is funded by a $1.4 million cooperative agreement from the US Department of Transportation's Research and Innovative Technology Administration, in-kind services from the Michigan Department of Transportation and the nonprofit Center for Automotive Research, and additional support from Michigan Tech. Researchers on the multidisciplinary project are drawn from the on-campus Michigan Tech Transportation Institute and the Michigan Tech Research Institute in Ann Arbor.
As with people, bridges start getting sick long before they develop obvious symptoms. "Lots of things are involved in a bridge's condition," says Ahlborn. Water can seep into tiny fissures and form cracks as it freezes and thaws. Forces ranging from heavy traffic to tiny earthquakes can take their toll. And with on-site inspections occurring only once every two years, monitoring a bridge's condition has been a difficult challenge. But technologies developed in recent years could very well make the inspector's job easier.
"We can use remote sensing to do everything from diagnosing illnesses to finding wetlands," Ahlborn says. "We ought to be able to use it to find out what's wrong with bridges."
The aim of the research is not to develop new remote sensing technologies, she stresses. "We want to identify existing technologies that show promise."
Those technologies also have to be affordable, since Ahlborn hopes to apply them to bridges both large and small. "We might find something that works great and costs $2 million," she says. "That would only be viable on something like the Mackinac Bridge or the Golden Gate.
In addition to monitoring and assessing bridge conditions, the technology must also make information easily available for those responsible for bridge maintenance and repair. "This isn't meant to eliminate bridge inspectors," Ahlborn says. "It should be a tool for them that allows them to do their jobs better."
Coprincipal investigators on the project from the Michigan Tech Research Institute are Codirector Robert Shuchman, Senior Research Scientist/Engineer Joe Burns, and Research Scientist Colin Brooks. Coprincipal investigators from the Michigan Tech Transportation Institute are Director Larry Sutter and Devin Harris, an assistant professor of civil and environmental engineering.
Michigan Technological University is a public research university, home to more than 7,000 students from 54 countries. Founded in 1885, the University offers more than 120 undergraduate and graduate degree programs in science and technology, engineering, forestry, business and economics, health professions, humanities, mathematics, and social sciences. Our campus in Michigan's Upper Peninsula overlooks the Keweenaw Waterway and is just a few miles from Lake Superior.