But Can You Use It? Usability Day Involves Students Across Campus
By Dennis Walikainen | Published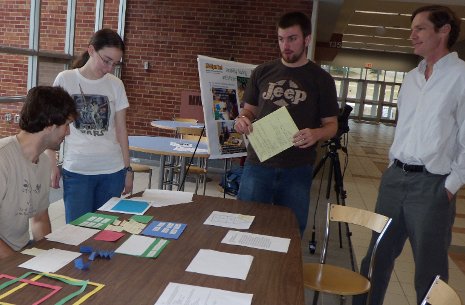 Students from many departments were investigating usability lately—analyzing products and processes to find ways to make them more efficient and more satisfying to use.
The results were as varied as they were impressive.
It was all part of World Usability Day–UP (WUD-UP), coordinated by Karla Kitalong, associate professor of humanities. This year's theme was sustainability.
In one event, students in the Fisher Hall lobby tried paper prototyping, a simple way to model a more-complex interface, in this case a "smart home" that would allow residents to keep track of their energy consumption. The students designed a touch-screen wall display and made a mock-up of the interface using construction paper and post-it notes. Then they created "scenarios:" stories of use that they could walk test subjects through.
"It's a low-cost method to answer usability questions that also saves time and is more flexible than coding up an electronic prototype, especially early in a design process," explained Chuck Wallace, associate professor of computer science. "It allows testers to respond quickly to users' unexpected actions as they explore the space. By using these scenarios, you can forgo some big mistakes later in the design process."
Running the paper prototype testing were students John Reese, software engineering; Emily Mehlenbacher, computer science; and John Bush, software engineering.
Users tested the paper designs, enabling the designers to gauge what Wallace called "both concrete reactions and qualitative feedback," thanks to the close monitoring of movements and "talk-aloud protocols" where users discuss what they are thinking and feeling.
Later, in the Memorial Union Building, the Efficiency Through Engineering and Construction (ETEC) Enterprise team presented three projects in the WUD-UP poster session.
First, they discussed an energy improvement winterizing initiative with local homeowners, funded by $50,000 from the Ford Motor Company Fund. They are working with 30 low-income and elderly homeowners over a two-year period, insulating doors, windows and pipes, among other improvements, to help lower utility bills.
"They are so happy when we help them," said Ashley Brown, a construction management major. "We are also working with two of the local high schools, Bridge and Horizons, so those students can take some of the knowledge back home with them."
Eric Kinonen from ETEC discussed another project he worked on with Lake Superior and Ishpeming Railroad (LS&I), helping to make their iron ore train operations more efficient. The 120-car trains currently need to slow down to get weighed, and one of the team's solutions was to move them off the main track to get weighed on a side track.
"There's some abandoned track here from Canadian National," the business management major said, pointing to his poster. "This is near the Dead River Bridge, and they could pull off to the side to let the empty trains pass."
The empty trains return from the iron ore docks in Marquette, and the trains go back and forth from Ishpeming three times per day.
The "Greening of Habitat for Humanity" was a third ETEC project. Dianna Cacko, also a construction management major, led visitors through their work.
"We came up with a different building plan to present to the potential new owners," she said. "We are greatly increasing the insulation on the roof and doubling the normal insulation in the walls. We'll improve the foundation, too."
The house will be built in Hancock and will also use passive solar principles, Cacko said, making it a very energy-efficient home.
Usability has great implications in computer interfaces too, and that was the focus of Chris Brown, a PhD student in computer science. Specifically, Brown was focusing on human-computer interface, and his project seemed like a "natural"—a better music player interface.
It also combined undergraduate testing of the design with graduate student observation and evaluation. Some paper prototyping was also used.
"It was truly peer evaluating," Brown said. "And we ended up with a simple computer prototype, a working model, that could do some randomization via songs, artists, or genres."
The grad students could then test the interface and users' reactions to it and make the appropriate adjustments.
"Usability is an interdisciplinary endeavor," Kitalong said. "True to form, World Usability Day 2010 attracted participation from across campus. The conversations that were started today will continue, and I'm pleased with how it turned out."
Michigan Technological University is a public research university, home to more than 7,000 students from 60 countries. Founded in 1885, the University offers more than 120 undergraduate and graduate degree programs in science and technology, engineering, forestry, business and economics, health professions, humanities, mathematics, and social sciences. Our campus in Michigan's Upper Peninsula overlooks the Keweenaw Waterway and is just a few miles from Lake Superior.