New Leader Commands Army ROTC Program
By John Gagnon | Published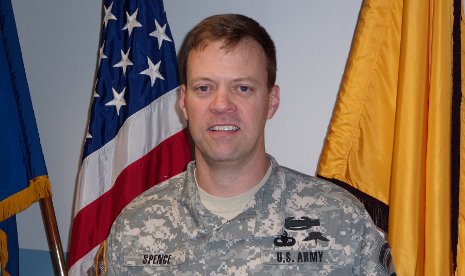 Lt. Col. James Spence is the new leader of the Army ROTC program at Michigan Technological University.
He comes to Michigan Tech after extensive service in Asia and recently, the Middle East. His work has ranged from drug control to combat to instilling the values of western civilization among other peoples of the world.
Spence exudes modesty, saying of himself, "I'm Joe Average in a community of remarkable people."
He's overly modest, for Spence is a soldier's soldier, having gone through the army's three toughest programs: the US Military Academy at West Point, Army Ranger School, and Special Forces (Green Berets).
West Point, he says, was "intense"--with exacting training, plus earning an engineering degree.
Army Rangers was "the most physically demanding program" he's ever been in. Immersion in four climates (mountain, swamp, desert and woodland). Two to three hours of sleep a night, limited food, unrelenting pressure, "yet you're expected to make good leadership decisions." The experience transformed him: "Many things in life are not so huge anymore."
In Special Forces (Airborne), he helped train troops of East Asia and South Asia--including South Korea, Thailand, Sri Lanka, Malaysia and Nepal--in conventional and unconventional warfare. The work involved not just military training but also teaching such concepts as human rights and the rule of law--"what we Americans take for granted." Special Forces soldiers are required to learn another language. Spence speaks Thai.
In 2004-05 he was deployed to Afghanistan and helped train Afghan forces in three provinces bordering on Pakistan. "A great challenge," he says, and the "highlight" of his career. Besides dealing with "the bad guys," there were a variety of other fronts: education, medical care and civic affairs, to name a few. "The stakes were high," he says, "but you knew you were making a difference." He describes working with local people as "phenomenal." The essence of it all: "Reach the young."
Spence's other duties have included a counter-drug operation in Thailand and supporting the cleanup of unexploded ordnance in Laos, Cambodia and Vietnam. He also has been posted at the US Army Command and General Staff College as both student and instructor. He has a master's in business administration from Webster University.
Bruce Seely, dean of the College of Sciences and Arts, says that Spence joins a campus detachment that is "superb." He is confident that Spence "will continue that tradition."
"He brings a wealth of experience that will serve our ROTC students well," Seely adds. "So we're delighted to welcome him to campus, knowing that he is going to find the climate, the terrain and our seasons a (hopefully) pleasant change from those he enjoyed during recent tours of duty in the Middle East."
Spence says Tech's ROTC program is vital. "The army needs good leaders," he says, "and 80 percent of them come from ROTC programs, only 20 percent from West Point."
He says the army of today "takes a broadly educated young man or woman." While on campus, they engage in a three-step training process. First, the student. Then, the leader. Then, the service.
Graduating cadets make a four-year commitment. "After that," Spence says, "even if they move on to civilian life, our nation will benefit."
Spence and his wife, Lisa, have two children. They moved to Houghton this summer. He already calls Tech and Houghton "an amazing community" with a presence of military supporters that "is greater than expected--and I'm glad to see it."
That's the voice of a career soldier who says simply about his work, "It's an honor to serve."
Michigan Technological University is a leading public research university, conducting research, developing new technologies and preparing students to create the future for a prosperous and sustainable world. Michigan Tech offers more than 130 undergraduate and graduate degree programs in engineering, forestry and environmental sciences, computing, technology, business and economics, natural and physical sciences, arts, humanities and social sciences.
Michigan Technological University is a public research university, home to more than 7,000 students from 54 countries. Founded in 1885, the University offers more than 120 undergraduate and graduate degree programs in science and technology, engineering, forestry, business and economics, health professions, humanities, mathematics, and social sciences. Our campus in Michigan's Upper Peninsula overlooks the Keweenaw Waterway and is just a few miles from Lake Superior.