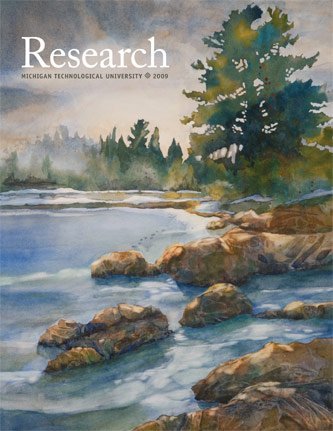 A pristine coastline paints a beautiful picture but requires freshwater management and coastal research. Otherwise, global climate change, invasion of plant and animal species, and the effects of man will paint a different picture for future generations. Michigan Tech researchers are environmentally conscious and making positive changes in the world now, so the next generation of researchers can make even greater improvements to our planet in the future.
Within these worthwhile endeavors, artistic creativity and inspired research require vision and the desire to make a difference in the world. At Michigan Tech, we foster an atmosphere that promotes sustainable research and creative approaches to difficult environmental and human issues.
Our researchers and students are tackling though problems such as global health concerns, hazards like volcanoes or ballast water, and the plight of the transportation infrastructure.
All academic disciplines are making great strides on campus. Our students are exposed to the creativity of the arts, the wonder of science and engineering, and much more as they create the future and change the world.

David D. Reed
Vice President for Research
---
---
---
---
---