Alumni and Friends
John Christianson
'75
Born in Green Bay, Wisconsin, John Christianson grew up blocks from Lambeau Field during the Lombardi Glory Years which instilled in him a love of sports and competition. He graduated from Green Bay Southwest High School with high honors, while playing on the tennis team, participating in newspaper and forensics, and tutoring his classmates in chemistry, physics and calculus, foreshadowing his eventual career choice. . . .
Paul Moore
'62
Dr. Moore graduated from Michigan Tech in 1962 with a B.S. degree in Chemistry. After obtaining his M.S. and Ph.D. in Geophysics from the University of Chicago he embarked on a distinguished career in mineralogy. Currently, Paul Moore is Professor Emeritus, Geophysical Sciences, of the University of Chicago. He has named 35 new species of mineral since 1965, thirteen of which he initially discovered himself. He is the . . .
Richard Swinehart
'31
Distinguished 40 year career in research and manufacturing at DOW Chemical Company - chief recruiter for DOW at Michigan Tech during the 1950's and 1960's - several patents - in charge of plant construction in Scotland and Japan.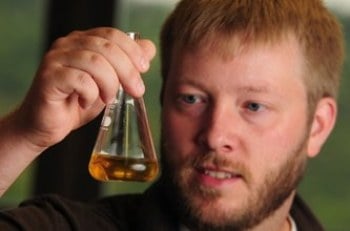 Alumni, tell us what you're up to.
Follow Us
Alumni Links
Take pride as a member of the Michigan Tech alumni family with over 70,000 members living and working in more than 100 nations around the world!
The Alumni reunion is a wonderful time to reunite with classmates and reminisce about your time at Michigan Tech.
Take advantage of continuing education and career planning and assistance, or even get help finding a job.
Being an alumnus of Michigan Tech has advantages other than a world-class education.
Chances are we are one of your favorite networks. Let's share.
Stay current with department news and research.
What You Can Do
Your experience and knowledge is incalculable. Share it with a student or recent graduate.
Enjoy alumni events in your local area.
We appreciate your gift, no matter the size.