Alumni and Friends
Caren Freel Meyers
'94
Caren received her bachelor's degree in Chemistry from Michigan Tech in 1994. She continued her education at the University of Rochester, earning a master's degree in 1996 and PhD in 1999 in Organic Chemistry. From 1999 until 2001, Caren held a teaching/research postdoctoral position in Medicinal and Organic Chemistry under the direction of G. Marc Loudon and Richard Borch. From 2002–2005 she was a . . .
Laurence Stevens
'58
Ph.D. in inorganic chemistry, Wayne State University - distinguished career in corporate America - retired vice president and chairman of executive committee of Indium Corporation of America - nine patents.
Nick Matwiyoff
'59
M.S. (1962) and Ph.D. (1963) in Chemistry, University of Illinois - professor of cell biology, University of New Mexico - director, University of New Mexico Center for Non-Invasive Diagnosis - deputy director, University of New Mexico Cancer Center - distinguished academic career from Stanford, Penn State, Los Alamos to University of New Mexico.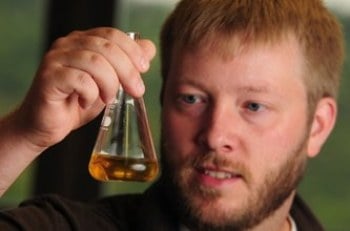 Alumni, tell us what you're up to.
Follow Us
Alumni Links
Take pride as a member of the Michigan Tech alumni family with over 70,000 members living and working in more than 100 nations around the world!
The Alumni reunion is a wonderful time to reunite with classmates and reminisce about your time at Michigan Tech.
Take advantage of continuing education and career planning and assistance, or even get help finding a job.
Being an alumnus of Michigan Tech has advantages other than a world-class education.
Chances are we are one of your favorite networks. Let's share.
Stay current with department news and research.
What You Can Do
Your experience and knowledge is incalculable. Share it with a student or recent graduate.
Enjoy alumni events in your local area.
We appreciate your gift, no matter the size.