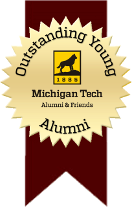 This award is presented each year to alumni under the age of 35 who have distinguished themselves in their career. The award recognizes the achievement of a position or some distinction noteworthy for one so recently graduated.
2018 Award Recipient
Nominations
Anyone may nominate Michigan Tech alumni for the award which may be given out annually, as deemed appropriate by the Board of Directors. The deadline for nominations is December 1.
If you have any questions about the nomination process, or would like to submit a nomination by mail, fax, or phone, please contact Alumni and Friends at 906-487-2400, toll-free at 1-877-688-2586, or alumni@mtu.edu.
Past Award Recipients

Name
Class
Major
Awarded
Amanda C. (Taylor) Nerg
2010
Business Administration
2018
Kevin C. Baker
2004
Biomedical Engineering
2017
Johnathon M. Aho
2008
Mathematics, Biological Sciences
2016
Benjamin D. Almquist
2004
Materials Science and Engineering
2016
Britta A. Jost (Vande Hei)
2002
Mathematics, Mechanical Engineering
2015
Jillian J. Rothe
2006
Mechanical Engineering, Business Administration
2014
Dr. Amy J. Clarke
2000
Metallurgical and Materials Engineering
2013
Kristina Marshall
1998
Business Administration
2012
Dr. Katerina E. Aifantis
2002
Engineering
2011
Teresa M. Schissler-Boichot
1998
Civil Engineering
2010
Michelle L. Boven
1999
Mechanical Engineering
2009
Jason M. Cousineau
1998
Mechanical Engineering
2008
*Benjamin J. Hall
2005
Social Sciences
2008
Dawn M. Plitzuwiet(Zarling)
1995
Biological Sciences
2008
Lynda L. Aicher (Lambert)
1992
Scientific and Technical Communication
2007
Dr. Kimberly L. Turner
1994
Mechanical Engineering
2007
Kevin J. North
1997
Computer Science
2006
Amy L. Trahey (Grisdale)
1994
Civil Engineering
2006
Lt. Jayson E. Eurick
1999
Mechanical Engineering
2005
S. Jayson Ripke
1997
Metallurgical and Materials Engineering
2005
Sean P. Asiala
1995
Chemical Engineering
2004
Brian R. VanVoorst
1991
Computer Science
2004
Daniel J. Branagan
1990
Metallurgical and Materials Engineering
2003
Thomas J. Karpus
1990
Electrical Engineering
2003
Otha Edward Thornton Jr
2001
Rhetoric and Technical Communication
2003
Toni S. Gissendanner
1990
Chemical Engineering
2002
John L. Uhrie
1991
Geological Engineering, Metallurgical and Materials Engineering
2002
Nancy Vandermey
1989
Mechanical Engineering
2002
Jessica M. Kaiser
1988
Business Administration
2001
Stacey E. Keener
1988
Computer Science
2001
Peter A. Tapio
1991
Civil Engineering
2001
*Erick S. Dyke
1991
Computer Science
2000
Darla J. Olson
1993
Biological Sciences
2000
Katrina P. Teague
1987
Scientific and Technical Communication
2000
Cynthia S. Anderson
1985
Electrical Engineering
1999
John A. Furton
1987
Computer Science
1999
Steven M. Tomaszewski
1991
Environmental Engineering
1999
Douglas G. Harris
1986
Operations Management
1998
Rebecca L. Smits PE
1986
Geological Engineering
1998
Gregory D. Besse
1983
Wood Science
1997
JoAnn C. Brinser
1985
Economics
1997
Lcdr. Tyler D. Kearly
1984
Civil Engineering
1997
*Adil Shafi
1986
Electrical Engineering, Computer Science
1997
Joan M. Hart
1984
Chemical Engineering
1996
Suzanne M. Jurva
1982
Scientific and Technical Communication
1996
Jeffrey L. Smolinski
1983
Mechanical Engineering
1996
John P. Jamar
1983
Mechanical Engineering
1995
Catherine D. McRae
1983
Geological Engineering
1995
Scott R. Pattullo
1981
Electrical Engineering
1995
Julie A. Fream
1983
Chemical Engineering
1994
Douglas J. Hamar
1982
Business Administration
1994
Dr. Linda S. Vanasupa
1985
Metallurgical and Materials Engineering
1994
George A. Bennett Jr
1979
Metallurgical and Materials Engineering
1993
Charles E. Cronenworth
1981
Mining Engineering
1993
Rose M. Koronkiewicz
1981
Mechanical Engineering
1993
Daniel H. Bliss
1983
Mechanical Engineering
1992
Susan G. Krienen
1979
Chemical Engineering
1992
*Michael K. Bacon
1977
Biological Sciences
1991
Barbara S. Link
1977
Metallurgical and Materials Engineering
1991
Dr. Paul D. Funkenbusch
1979
Metallurgical and Materials Engineering
1990
Dr. John M. Liebetreu
1979
Electrical Engineering
1990
Burton C. Arola
1975
Business Administration
1989
Mark D. Clements
1976
Civil Engineering Technology
1989
Jeffrey M. Jentzen MD
1975
Biological Sciences
1988
Dr. William C. Johnson
1976
Applied Physics
1988
Frederick R. Delie PE
1973
Electrical Engineering
1987
Dr. Sarah A. Rajala
1974
Electrical Engineering
1986
J. Bronce Henderson
1973
Metallurgical and Materials Engineering
1984
Michael D. Meeuwsen
1976
Business Administration
1984
L/Col. Robert F. Lemon Jr.
1970
Electrical Engineering
1983
Don T. Moore PE
1970
Electrical Engineering
1983
Teo A. Babun Jr.
1972
Electrical Engineering, Business Engineering Administration
1982
Thomas J. McEnhill PE
1971
Chemical Engineering, Business Engineering Administration
1982
James L. Sanderson
1973
Chemical Engineering
1982
*John E. Kappler
1971
Business Administration
1981
Thomas M. Neuville
1972
Chemical Engineering
1981
Daniel H. Draper
1967
Mechanical Engineering
1980
Ronald K. Franz
1967
Business Administration
1980
James E. Grimes
1969
Business Administration
1979
*John O. Vartan
1970
Civil Engineering
1979
Dr. James D. Brodeur
1968
Biological Sciences
1978
Ross C. Feltz
1969
Liberal Arts
1978
James J. Graham
1970
Metallurgical and Materials Engineering
1977
Dr. Robert J. Pomazal
1966
Engineering Mechanics
1977
Donald L. French PE
1966
Civil Engineering
1975
David W. Smith
1967
Business Administration
1975
Camiel E. Thorrez
1970
Mechanical Engineering
1975
William A. Armstrong
1965
Mechanical Engineering
1974
Dr. Henry S. Santeford, Jr.
1964
Civil Engineering
1974
Dr. James L. Voogt
1966
Biological Sciences
1974
*Deceased