Honorary Alumni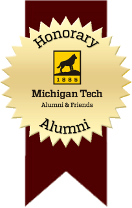 This award honors individuals who have provided service and support of the University characteristic of our dedicated alumni. The Board of Directors reserves this award to recognize the strongest non-alumni supporters of Michigan Tech.
2018 Award Recipient
Nominations
Anyone may nominate persons they feel deserve the honor of being recognized as Michigan Tech alumni. The award may be given out annually as deemed appropriate by the Board of Directors. The deadline for nominations is December 1.
If you have any questions about the nomination process, or would like to submit a nomination by mail, fax, or phone, please contact Alumni and Friends at 906-487-2400, toll-free at 1-877-688-2586, or alumni@mtu.edu.
*Deceased