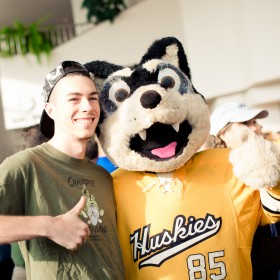 Tech Marks Fifth Straight Year of Enrollment Increases
By Mark Wilcox
Preliminary enrollment figures required by the state of Michigan have been tabulated by Michigan Technological University. At 7,319 students, Michigan Tech marks a fifth straight year of enrollment growth. With 51 students more than last year, this is the fourth straight year Michigan Tech has recorded its largest student body since 1983.
The number of undergraduates grew by 90 students (1.5 percent). This year Michigan Tech will enroll its second-largest class of new graduate students (428) after graduating a record number of graduate students last year. The 651 graduate degrees (PhD, MS and certificates) awarded last year represented an 11.5 percent increase from the previous year.
There are 1,983 women enrolled at Michigan Tech this fall, the highest number ever recorded. The proportion of women grew again this year, making up 27.1 percent of the student body, at the same time overall enrollment was increasing as well. That's nearly a three percentage point increase since 2005.  Domestic student diversity comprised of underrepresented ethnic populations increased to 491 students, also an all-time high, making up 8.2 percent of the student body.
Retention improved by approximately one half of one percent to 83.2 percent. The average high school GPA of the entering first-year class is 3.72.
"Michigan Tech is providing an education that pays off, developing the innovative problem-solvers that this state and nation need," said President Glenn Mroz. "Forbes has ranked us 12th in the nation for mid-career salaries of graduates. That kind of success speaks for itself."
–
We look forward to sharing Tech Traditions with the new students: K-Day, Homecoming, Winter Carnival, pasties (with ketchup or gravy) and broomball.
What is your favorite Tech Tradition? And, what did campus enrollment look like when you were a student? Email us.
-Sarah