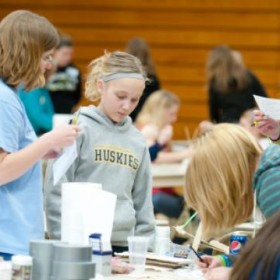 I am on medical leave for a while. I will miss you all, but a group of stellar Michigan Tech personalities have stepped up to write guest columns while I am away.  Today, Director of the Center for Pre-College Outreach Cody Kangas tells us about a common question students are asked. —Dennis
"What do you want to be when you grow up?"
That's a common question we often default to when talking to students and youth today. Maybe it's because we heard it ourselves growing up, and the sequence of words is still so ingrained in our brain. Or perhaps it just seems like an easy gateway to gauging what makes young people tick. Another reason might be this: hearing people dream out loud is simply infectious! Yet, what if we didn't have to resort to patiently envisioning "what might be?" What if we could provide a way to switch "when you grow up" to "right now'?" Why can't we ask, "What do you want to be right now?" Well, at Michigan Tech, we do.
Michigan Tech is a place of consequence, and one incredible strength of ours is having the capacity to greatly impact future generations through innovative, hands-on outreach. An important part of this outreach are the engaging events hosted by the University's Center for Pre-College Outreach. The Center invites local secondary school students to dive into STEM intentionally and purposefully. For example, there is Get WISE, a project-based event for middle school girls that includes a panel of role models and mentors, Then there's TiViTz,a fast-paced math tournament for elementary and middle school students, and Engineering Olympics, an engineering competition for high school students. These programs, not only introduce youth to the fundamentals of STEM; these events actually enable the students to be scientists, mathematicians, and engineers. At the heart of each event is students' awareness that they are not merely going through the motions at an ordinary field trip. On the contrary, they are embracing the moment and having an unabashed, hands-on experience learning and being creative.
Here at Michigan Tech we strive to inspire scholarship, and we aim to inspire possibilities. We are a community that does not idly wait for our future workforce to stumble upon educational opportunities, but one that assertively reaches out and provides experiences that shape dreams and enable realizable aspirations. We have created a culture that invests in fostering the talent and skills of our prospective leaders and change-makers. And we are proud of what we do!