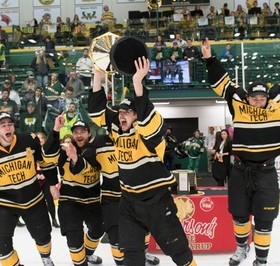 Michigan Tech won its second straight WCHA Playoff Championship Saturday with a 2-0 shutout of Northern Michigan University. Read game highlights here.
More than 700 alumni and friends packed the John MacInnes Ice Arena on Saturday night to cheer on the Huskies from a distance.
The Hockey Huskies will play Notre Dame on Friday, March 23 in the 2018 NCAA Men's Ice Hockey Tournament. The game will take place at 3 p.m. at Webster Bank Arena in Bridgeport, Connecticut. Read more here.
Spring is here in the Keweenaw. Hockey continues. The ice sculptures are still standing. The snow is melting slowly. 20 inches of snow remain on the ground. And we know the last snowfall of the year still is on its way.
But we enjoy sunnier days, students are returning from spring break and there's a hint in the air that the semester is more than half over.
Until next time,
Sarah