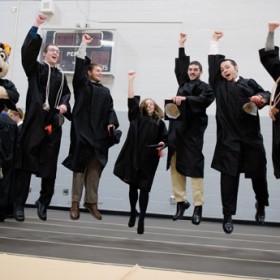 A frigid morning greeted the midyear graduating class of 2013. Many of their parents streamed into the basketball gym early to get good seats.
I instantly ran into to Matt Younger and his parents, Kate and Lloyd '89, from Mukwongo, Wisconsin. Matt was a member of our National Champion Mining Team (see story), and was on his way to an MBA.
Nearby, Tyree Hall from Clinton Township, Mich., was celebrating with mom, Briana. Tyree was getting a degree in communication, culture, and media and looking forward to a career in student affairs. Devon Lindley, psychology grad from Hart, Mich., is a Phi Tau who helped plan Orientation this year. He will pursue a master's in counseling or counseling education. Briana and Devon also did a little face time for the local TV station.
Evan Allen was getting his EE degree, then off to Southfield, Mich., where he will work for a contractor at Eaton, doing automotive testings with other engineers. David Brown-Strange was getting commissioned in the Army and heading to Appleton, Wisc., and the 395th Army Reserve Unit. He'll be working with H&CS Engineering Solutions company.
We were fortunate to get two great speeches during the ceremony. Student speaker Felicia Nip began by talking about all the unique things students have experienced while at Tech. She mentioned the Northern Lights. "If you missed them while you were here, look around  at your classmates. They are the Northern Lights."
The magic of being Husky, she said, was the adventurous, innovative students; the Pep Band; the natural history and beauty of the Keweenaw; and the people you meet on a five-minute walk across campus who will greet you with "How you doing?" wear funny t-shirts, and debate Macs vs. PCs and iPhones vs. Droids.
"Together, we'll light up the sky."
Scott Usitalo '81, president of the North American Family Care Division of Kimberly Clark, was the local student coming home. Raised in South Range, he worked his way through Tech and left campus to a global career and some wisdom discovered along the way.
First, he told the graduates to look around, find their families, and say "thank you" to those who helped them so much along the way.
He challenged the graduates to explore the world, think big to solve problems, think small like cellphone technology, and lead gracefully.
"You'll find that real growth comes when you're down in the valleys, not at the top of the mountains. The world needs you."
As the graduates went up for their degrees, there seemed to be a lot more applause than usual (and a few cowbells). I think the families and friends were glad to be out of the cold and celebrating the moment. One dad down below us clapped for every graduate: all 400-plus.
Afterwards, we got  Pep Band bombast, on the stage this time, which continued into the Multipurpose Room. There, Nathan Booms was leading them for his next-to-last time. He would do so again at the hockey game that night. He was heading to Kansas to work with Garmin, using his computer engineering degree.
We met a former Blizzard, Andrew Kennedy, who was using his biology degree to get into grad school. He might be staying at Tech and staying in costume. But you'll never know if it's him.
Finally, our first PhD in Atmospheric Sciences recipient, Matthew Beals, was celebrating with advisor and physics professor Raymond Shaw. Beals will be venturing to the MIT Lincoln Lab and working on secret stuff. His dissertation was on cloud microphysics(!).
As we left the building, Alumni Relations Director Brenda Rudiger was staffing another commencement tradition. Grads could sign a banner on the way out and get a poster of their first year here, 2009, which probably feels like a lifetime ago.
We've all grown a lot since then.
Dennis '92 '09
Snowfall Totals
In our never-ending search for numbers that reflect what we're going through, we will use Keweenaw County snow records. They have last year's totals built right in. Hang on to your chook.
And, if you are really missing Tech, watch this video on Facebook.