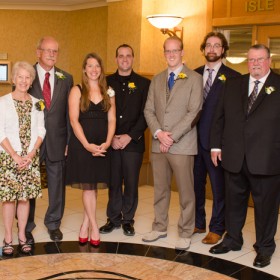 Alumni Reunion 2016 brought close to 600 alumni and friends back to campus for three days of events, August 4-6. From sharing stories from 1966 at the Golden M pinning ceremony, to the 5K run/walk for scholarships, to creating a lovable plush husky dog, new memories were made for all ages.
The following outstanding alumni were recognized at the Alumni Reunion awards dinner:
Outstanding Young Alumni Awards
Benjamin Almquist '04 Materials Science and Engineering, London, England
Johnathon Aho '08 Mathematical Sciences/Biological Sciences, Rochester, Minnesota
Presented to alumni under the age of 35 who have distinguished themselves in their careers. The award recognizes the achievement of a position or some distinction noteworthy for one so recently graduated.
Outstanding Service Award
Joshua '03 and Jana Fogarty '05 Materials Science and Engineering, Plymouth, Wisconsin
Presented to alumni and friends making significant contributions to the success of the Association and/or the University.
Distinguished Alumni Award
William Bernard, Jr. '69 Metallurgical and Materials Engineering, Perrysburg, Ohio
This award recognizes alumni who have made outstanding contributions both in their careers and to Michigan Tech over a number of years.
Humanitarian Award
James Tanis '57 '58 Geological Engineering/Geophysics and Janet Tanis, Sedona, Arizona
Presented to those alumni and friends who, through their outstanding involvement and dedication, have made a significant contribution of volunteer leadership or service which has improved or enriched the lives of others and the welfare of humanity and whose accomplishments reflect admirably on or bring honor to their Alma Mater.
Weren't able to make it back this year? Make plans to visit campus for the 2017 Alumni Reunion, August 3-5. In addition to featured class years, we will be celebrating all Women of Michigan Tech!
Enjoying the GLRC Open House and Boat Tour