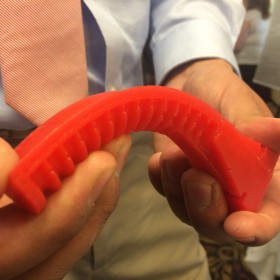 We're winding down the spring semester, and that means it's time to see what our students have been up to during the school year. Last Thursday was Design Expo, a presentation of Senior Design and Enterprise projects and their progress throughout the year. Enterprise presentations were in the MUB's Alumni Lounge, while Senior Design took up just about all of the Ballroom.
For a non-engineer like me, there was a lot of detail I surely missed. I did note that lots of things lit up and moved around and did stuff. The first I stepped up to had one of those tower lights—the type you might see on a factory floor and I remember from previous employment—but they had it cycling through all three colors.
"That's just because it looks cool," explained a student. "We're not operating the machine in here, so we don't need them to tell us the status."
He then went on to describe a device that accelerates an object from zero to some-thousands of miles an hour in a span of microseconds. He pointed out a valve.
"None of the valves no the market work fast enough for what we need," he said. "So we designed and built our own."
Just like that?
"Yup."
Another table was showing virtual-reality functionality, and nearby to that was a redesign for the tailgate of a car. The back quarter of a car was right there in their display.
This is what I love about Design Expo: that our students get to show all of this off, their work of nine months, but that they're ultimately so relaxed about it. They aren't in awe of their efforts. It's almost a shrug. Yeah, we did this.
I also got to overhear some conversation among the students when us nosy folks weren't asking them questions. The chatter was generally about the summer, what comes next. I'm working here and I'm co-oping there. Where? I heard Chicago, Wisconsin, the Twin Cities, and a whole bunch down-state.
And that's where the excitement crept into their voices. Not where they were going, but what they were going to be doing: designing, testing, building prototypes, working on systems. Some are graduating, some are coming back next year. But they're all set to get down to work.
It's days like this that make me proud to be here. They're pumped for what's next. And they've got the skills and support they need to get there.
For some detailed coverage of Design Expo, check out Allison's news article below. Also down there is some information on the wolves at Isle Royale, some time in the foundry, and more.
In other news:
Commencement is coming up, and we'd love to have some of your memories from that big day. Check out Fill in the Blanks below when you get a chance.
A bit of a snow report for you: the glaciers on either side of my driveway have just about disappeared. It's the point where there's a great deal of sand on the roads and some of the grass. I went to play some disc golf yesterday, and in addition to it being wet, there were still some snow mountains up by the Mineral Museum. Mont Ripley has some healthy white patches on it yet. And I know better than to say the s-word in April: we're expecting a least a little snow this week.
It's not just me pecking away at my keyboard that puts TechAlum together. Last issue, several of you noticed the links were sending you to a prior issue. That's above my technology level—something with a cache not clearing right—but I did want to mention that our web team over here in University Marketing and Communications did a bang-up job getting it sorted out. The same goes for the staff of Alumni Relations who do so much to pull this together. They get me the information I need to  bring this publication out every two weeks. You probably already guessed it, but I wanted you to know that it's a really great crew who makes this all happen.