VPA Live Streaming
Welcome to our live streaming page. Selected Visual and Performing Arts (VPA) events are broadcast live during our performance season (September - April) from the James and Margaret Black Performance Hall in the Rozsa Center for the Performing Arts and/or McArdle Theatre in the Walker Arts and Humanities Center on Michigan Tech's Campus.
The live stream link will be available 10-30 minutes before the start of the performance. All live streamed events are audio-streamed only. Due to the limits of our live performances, select events can only be broadcast live and are not available after the performance in any form.
Up Next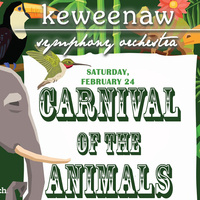 Saturday, February 24 at 7:30 pm

One of the great zoological works in the orchestral canon, Carnival of the Animals by Saint-Saëns includes humorous depictions of elephants, donkeys, lions, hens, roosters, tortoises, kangaroos, and the famous "swan" for solo cello. This concert, presented by the Keweenaw Symphony Orchestra, also features two Russian masterworks: Shostakovich's Festive Overture and Mussorgsky's Pictures at an Exhibition. This concert is sponsored by a generous gift from John and Biruta Lowther.
Upcoming Streaming Events