Angela Johnston works for one of the largest consumer products companies, and she's developed a product to help the smallest human beings.
The Michigan Technological University chemical engineering alumna developed, tested, verified and commercialized a new diaper designed especially for premature babies.
"As a scientist, and a mother, it is something I'm proud to be a part of," she says
Solving problems is what Johnston, a 2000 Michigan Tech graduate, does every day in her current role as product technical leader for Huggies® Little Snugglers at Kimberly-Clark Corporation. She's worked with hospitals and neonatal intensive care units to design the best diaper for preemies.
Number of Preemies Growing
According to the Centers for Disease Control, one out of every 10 infants born in the United States and Canada are preterm births, and 55,000 of them are born weighing less than 900 grams or just under two pounds. With advancements in medical technology, these babies have long NICU stays and increasingly better survival rates, Johnston says.
Verifying the value of the new diaper included a 40-point hand inspection to provide the highest quality product for the most vulnerable babies, she adds.
Johnston's path to Kimberly-Clark started at Michigan Tech, where she followed in the footsteps of her older sister, Maria Thielbar, a 1997 chemical engineering graduate. She says the job placement rate and a University Board of Control Scholarship helped her earn her degree.
"Like many teenagers, I didn't know what chemical engineers did, which is why I now spend time in local schools talking about engineering," she says. "In my experience, it seems like chemical engineers can do just about anything they set their mind to. Michigan Tech teaches you how to think. They think about a situation or problem from multiple angles, are creative, and they aren't afraid of working hard to solve something."
Johnston has done that in her 17 years at Kimberly-Clark. She's traveled across the globe, developed solutions to meet human needs, seen products she's developed on store shelves and accepted Product of the Year Awards for Kimberly Clark in Times Square. She says the best part about her job is that "it is constantly changing."
Johnston also served as the lead product developer for Viva® Vantage paper towels. Her task: to create a stretchy product. "Stretch in the paper towel meant it was able to absorb energy without breaking, the definition of toughness," she explains.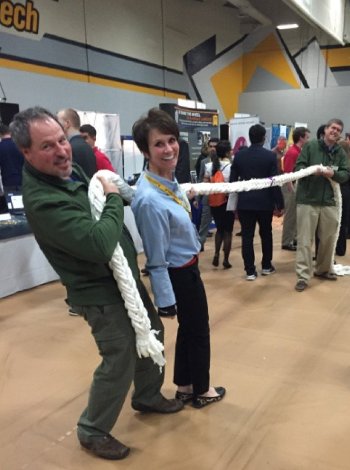 Johnston wove and twisted rolls of paper towels into ropes that were used at Ribfest near Toronto, Canada, where festival goers could tug against Canadian Olympians. "That was awesome and fun," she says. "They even made it to a Career Fair at Michigan Tech."
Next, Johnston used the towels to weave a lawn chair and sew a sun umbrella. She first created a pattern from her own patio umbrella, then sewed the paper towels into an umbrella that could be fully extended.
Chemical Engineering Is Fun
"I really love what I do," she says. "I believe in the products I work on, and being an advocate helps me share my enthusiasm with others. Being a champion for the target consumer means that I put myself in someone else's shoes and imagine better solutions."
Johnston met her husband, Jim Johnston, when he was also studying chemical engineering at Michigan Tech. The couple lives in New London, Wisconsin, with their daughters Jane, 11, and Kate, 10. Jim is transitioning careers from engineering and management to teaching high school physics and science to "inspire and motivate the next generation."
Outside of work, Johnston gave bodybuilding a try and succeeded, winning two International Natural Bodybuilding Foundation competitions. She says it began as an experiment on herself and "she was amazed to see it working."
She enjoys returning to Tech to speak at the Chemical Engineering Department's challenges and opportunities session each fall.
"If I can inspire even one student to stick with it, then it is worth it," she says. "A number of our students come to meet me at Career Fair later that week, and we get some great job candidates."
Johnston considers Michigan Tech a special place. "It's where many of us found what we were made of, where we found lifelong friends and spouses, and where we dared to dream of doing great things. I come back to campus to inspire students, to attract new hires and to keep making new memories."
Michigan Technological University is a public research university, home to more than 7,000 students from 54 countries. Founded in 1885, the University offers more than 120 undergraduate and graduate degree programs in science and technology, engineering, forestry, business and economics, health professions, humanities, mathematics, and social sciences. Our campus in Michigan's Upper Peninsula overlooks the Keweenaw Waterway and is just a few miles from Lake Superior.