Michigan Tech's US News Graduate Engineering Rankings Rise
By Jennifer Donovan | Published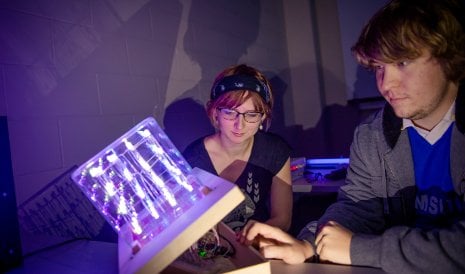 Michigan Technological University's graduate engineering programs moved up dramatically in US News & World Report's annual rankings of graduate school programs—to 82nd in the nation. Last year, Michigan Tech's graduate engineering programs ranked 104th.
Michigan Tech tied for 82nd with the University of Central Florida, the University of Cincinnati, the University of New Mexico and the University of Texas-Arlington.
Engineering Departments Move Up
Four engineering disciplines also rose in the graduate rankings.
Civil Engineering—62nd (from 63rd last year)
Computer Engineering—91st (from 95th last year)
Electrical Engineering—88th (from 92nd last year)
Mechanical Engineering—51st (from 53rd last year)
Biomedical Engineering ranked the same as last year: 63rd nationwide. Tech's biomedical engineering program has only been ranked for three years and has climbed quickly to become one of the highest-ranked biomedical engineering programs not affiliated with a medical school.
"We are proud that our graduate programs in engineering are being recognized for their quality by this ranking," said Wayne Pennington, dean of the College of Engineering. "The competition for quality faculty, staff and graduate students in engineering is strong these days, and Michigan Tech has been successful in maintaining and even improving on its high standards of academic excellence and research, affirming our long-term dedication to those standards."
How the Rankings Are Done
US News & World Report's annual graduate rankings are based on two types of data, according to the magazine's web site: statistical data and peer assessment of the quality of the program. This year, US News surveyed 215 engineering schools that grant doctoral degrees. They rated factors including peer assessment, recruiter assessment, student selectivity, Graduate Record Exam (GRE) scores, acceptance rate, faculty resources, student-faculty ratio, research activity of faculty, total research expenditures and average research expenditure per faculty member.
Engineering disciplines such as mechanical or civil engineering were ranked solely on peer assessments from department heads in each specialty.
Geological and Mining Engineering and Sciences, an engineering department at Michigan Tech, is not ranked as an engineering specialty by US News & World Report. It is included in the ranking of graduate science programs, under earth sciences, and that ranking was not done this year.
"It is wonderful to see that Michigan Tech's overall ranking for graduate programs in engineering is among the top 100 in the nation," said Provost Jackie Huntoon. "It is great for the University as a whole to have graduate programs in our largest college receive this sort of recognition. This will put our name and offerings in front of prospective students who may be unfamiliar with us and should help us to recruit increasingly promising scholars going forward."
Jacque Smith, director of graduate enrollment services in the Michigan Tech Graduate School, was pleased to learn of the new rankings. "We have seen a steady increase in the academic quality of students being accepted to our graduate programs. Our increase in rankings is a direct reflection of the excellence of Michigan Tech's faculty, students, and facilities," he said.
Michigan Technological University is a public research university, home to more than 7,000 students from 54 countries. Founded in 1885, the University offers more than 120 undergraduate and graduate degree programs in science and technology, engineering, forestry, business and economics, health professions, humanities, mathematics, and social sciences. Our campus in Michigan's Upper Peninsula overlooks the Keweenaw Waterway and is just a few miles from Lake Superior.