Body Positivity Week: How You Feel About How You Look
By Mark Wilcox | Published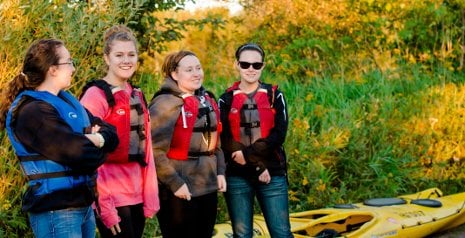 When you look in a mirror what do you see? More importantly, how do you feel about what you see?
Amber Leonard-Thome, a lecturer in Michigan Technological University's Department of Kinesiology and Integrative Physiology, says the issues of body positivity and autonomy are important for a number of reasons.
"How we feel about ourselves, our appearance and our self-worth impacts our ability to perform in our lives," she says.
To counter pressures to fit into certain molds for how to look, live and behave, Michigan Tech is holding "Body Positivity Week" through Thursday February 25. Leonard-Thome is one of the organizers of the four-day event sponsored by Girls Gone Strong, Michigan Tech Wellness, the University's Speak Up Title IX program, and Delta Zeta and Delta Phi Epsilon sororities.
Feeling Good in Your Body
Leonard-Thome says in order to contribute to the world around us, it's important to feel good in the body you're in, even if you want to make some changes.
"Students today are anxious; they're trying to succeed in and out of the classroom and to find and pursue meaningful careers. As students transition into their careers, it's important they feel good about themselves and their bodies," she says. "
Michigan Tech Wellness Coordinator Whitney Boroski, another organizer of the event, agrees that body image is another issue that puts pressure on students.
"We seem to see a lot of the same people, whether it be at counseling services or other programs, but students are looking for answers," she says.
Those answers are often hard to find, especially if nobody is asking the questions. Student Megan Schluentz, a member of Delta Phi Epsilon, explains why she got involved with Body Positivity Week. "I really feel this is an invisible issue, and I really want this to reach as many people as we can."
Men Have Issues Too
While the issue of body image is often centered on women, both Leonard-Thome and Boroski, say men are not immune.
"Body issues are viewed as something that mostly women experience, but we're finding that many males are impacted as well," Leonard-Thome says.
Boroski says, "We know that many men go through some of these same issues, but they don't talk about it. The space needs to be given to address this."
Leonard-Thome adds, "With the rise of social media, there is increased visibility of many facets of life. We often compare our own 'behind the scenes' to other's 'highlight reels' as displayed on Facebook and Instagram."
Taylor Aho, a member of Delta Zeta, says for her it was important to get involved. "As someone who's involved in Greek Life, I've seen people struggle with body positivity issues. I know how important it is, and I wanted to do something about it. The first step is getting people to actually start thinking about this."
The first event, an "I Love My Body" exercise took place Monday at the Library.
Two events are scheduled for Tuesday, February 23. From noon to 1 p.m. in the Memorial Union Ballroom, there will be a Lunch and Learn entitled "Balance and Moderation." Those interested are asked to RSVP to Boroski at wmborosk@mtu.edu. Tuesday evening from 8:15 to 9:15 p.m. there will be "Yoga for Every Body" in the Student Development Complex studio.
The emotional part of body positivity will be addressed at two events on Wednesday, February 24. From 10 a.m. to 2 p.m., an eating disorder screening conducted by Counseling Services will take place in the Administration Building room 313. From noon to 4 p.m., there will be an activity in the Dow Lobby called "Trash Your Insecurities."
Body Image Activist
The highlight of Body Positivity Week is the Thursday appearance of writer and activist Erin Brown. Brown, a well-known advocate of women living autonomous lives will speak at 6 p.m. Thursday, February 25 in Fisher 135. Brown will talk about self-image, surviving sexual assault, body autonomy and eating disorders. She serves on the advisory board for Girls Gone Strong, an online resource for women's health, wellness, nutrition, training and lifestyle information.
"There is more to health and fitness than washboard abs," Brown says. "I'm here to talk about the rest of it." Organizers say the talk is geared toward a college audience but is appropriate for youth accompanied by a parent.
Brown's talk will be followed by a candlelight vigil to honor victims and survivors of eating disorders.
Michigan Technological University is a public research university, home to more than 7,000 students from 54 countries. Founded in 1885, the University offers more than 120 undergraduate and graduate degree programs in science and technology, engineering, forestry, business and economics, health professions, humanities, mathematics, and social sciences. Our campus in Michigan's Upper Peninsula overlooks the Keweenaw Waterway and is just a few miles from Lake Superior.