ASPEN Prepares for Isle Royale Tour at International Environmental Conference
By Monica Lester | Published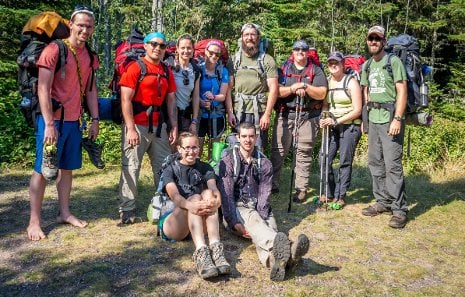 Students who are concerned about the environment have banded together to form the Association of Students for People, Environment and Nature (ASPEN). And they don't just talk the talk. They took a 6-day backpacking trip at Isle Royale National Park in August to explore and learn about the island, so they can share it with natural resources professionals from around the world at the International Symposium on Society and Resource Management at Michigan Tech next June.
ASPEN was created earlier this year as an official student chapter of the International Association for Society and Natural Resources (IASNR). Its goal is to create an opportunity where people with these interests could network, professionally develop and be a part of something bigger like the IASNR's international conference. "We want to create opportunities that aren't already available," says Chris Henderson, president of ASPEN. "Conferences can introduce students to people in the field and give them a chance to volunteer."
In fact, the ISSRM (http://www.iasnr.org/?page_id=521), which will bring in academics, professionals and graduate students from all around the world, will be held at Michigan Tech next June. That's why ASPEN was at Isle Royale National Park this summer.
The student members of ASPEN took their Isle Royale backpacking trip as part of an initiative of ASPEN, the Isle Royale Institute (IRI) and IASNR. The initiative plans student-led field trips to Isle Royale for participants at next year's conference.
When they arrived on the island, the group met with Ken Vrana, IRI director; Liz Valencia, chief of interpretation and cultural resources; and Phyllis Green, park superintendent. They learned about some of the ongoing projects and changes in the park:
IRNP wolf-moose-vegetation management plan, environmental impact assessment and public comment period.
Park relationship with industry and jurisdiction over an international Great Lakes shipping lane.
Recent addition of a solar photovoltaic array that will cut Rock Harbor power costs.
They also learned about the many uses of the M.V. Ranger III - it's a people ferry, garbage mover, gas/diesel tanker, and has been used to release young fish that were raised in state hatcheries into Lake Superior.
The next day they set out for their trip throughout the island. The group hiked, fell asleep to loons, awoke to the Northern Lights, took a swim in the lake, discussed the ecology and history of the island, and ended the trip with a red squirrel trying to steal their pizza at a restaurant in Rock Harbor.
ASPEN meets regularly and is looking for help with the upcoming conference. Anyone interested should contact Chris Henderson at cdhender@mtu.edu.
Michigan Technological University is a public research university, home to more than 7,000 students from 54 countries. Founded in 1885, the University offers more than 120 undergraduate and graduate degree programs in science and technology, engineering, forestry, business and economics, health professions, humanities, mathematics, and social sciences. Our campus in Michigan's Upper Peninsula overlooks the Keweenaw Waterway and is just a few miles from Lake Superior.