Seely Retires from USCG Reserve
By Mark Wilcox | Published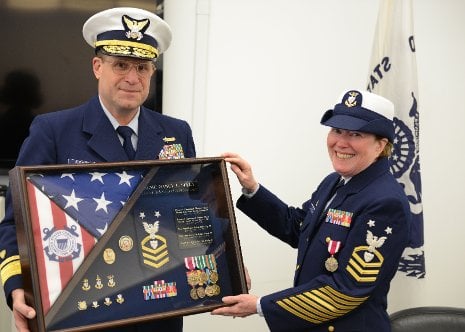 In 1983, Nancy Seely, associate director of the William G. Jackson Center for Teaching and Learning at Michigan Technological University, joined the US Coast Guard Reserve in San Antonio, Texas. She says she joined the Reserve at the encouragement of a work friend, in part because her father served in the Coast Guard during World War II, and in part because it was something different to do. "My father was very proud of his service during WWII and I wanted to be part of such a special organization. However, I really had no idea of what it meant to be a member of the Coast Guard Reserve or how long I would serve."
Over the three-plus decades there were many changes in Nancy's life; marriage, children, moving to the Keweenaw Peninsula and employment at Michigan Tech. Through all those changes, one thing remained constant, her commitment to the USCG Reserve. That's not to say there weren't changes in her career in the Reserves.
Seely joined the Reserve as a third class yeoman, managing issues relating to administration, personnel, pay and travel, among other things. When she retired from the Reserves 32 years later—in May—she was the reserve command master chief for Coast Guard District Eleven, covering the states of California, Arizona, Utah and Nevada. The command master chief is the most senior enlisted member of the district and provides advice to the district commander on issues and initiatives pertaining to all Coast Guard reserve members and their families.
In the early days of her service, Seely supported recruiting activities in San Antonio, and after moving to Houghton in 1986, she served with the Coast Guard Reserve Unit at Station Portage as the stationkeeper, leading administrative petty officer, and then administrative officer. One of her mentors at Reserve Unit Portage was Master Chief David Thomas, a former Michigan Tech librarian.
After advancing to chief petty officer, Seely assumed the position of command enlisted advisor for Coast Guard Sector Sault Ste. Marie, covering the Lake Superior area, from Sault Ste. Marie to Duluth, and south to St. Ignace. She next served as the reserve command master chief for Sector Sault Ste. Marie. In these positions, she acted as the liaison between the enlisted reservists and the sector commander.
In June, 2012 Seely accepted the position of reserve command master chief for Coast Guard District Eleven in Alameda, Cal. When asked why she accepted a position 2,500 miles from home, she said "I had spent 26 years serving in the Lake Superior region, and I wanted to see another part of the Coast Guard. This position would also allow me to take on greater responsibilities than my position at Sector Sault Ste. Marie had. I quickly learned that that the roles and challenges facing reservists serving on the west coast were very different from those found at the small boat stations on Lake Superior. It was a great way to end my Coast Guard career."
Seely was recognized for her contributions to the Coast Guard during a Change of Watch and Retirement ceremony on April 21 on Coast Guard Island, Alameda, CA. Admiral Joseph Servidio, the District Eleven commander, said Seely "served with extraordinary distinction." He said Seely's career in the Reserve exemplified the USCG's motto Semper Paratus (Always Ready) and he awarded her the Meritorious Service Medal.
Servidio said Seely was "passionate about her responsibility towards ensuring continued future Coast Guard and Coast Guard Reserve success—nurturing, grooming, and growing tomorrow's Reserve leaders." He said for more than 32 years Seely met every challenge placed in front of her with "grace and an always-positive attitude, did it superbly well, and did it with a focus and a passion placed on our people."
At the ceremony Seely, a passionate Michigan Tech hockey fan, paraphrased coach Mel Pearson's challenge to his senior players each year to "leave the organization better than they have found it."
"For me," Seely said, "after more than 32 years with the Coast Guard Reserve, I'd like to think that I have left the reserve program better than I found it … Semper Paratus.
Michigan Technological University is a public research university, home to more than 7,000 students from 54 countries. Founded in 1885, the University offers more than 120 undergraduate and graduate degree programs in science and technology, engineering, forestry, business and economics, health professions, humanities, mathematics, and social sciences. Our campus in Michigan's Upper Peninsula overlooks the Keweenaw Waterway and is just a few miles from Lake Superior.