Michigan Tech Named One of the Best Small-Town Colleges in America
By Jennifer Donovan | Published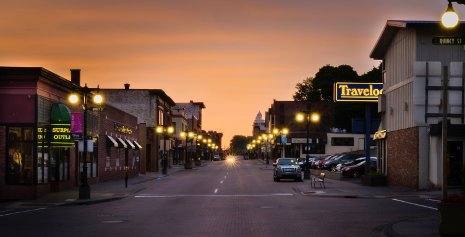 Michigan Technological University has been named one of America's best small-town colleges by BestColleges.com, a database of colleges and universities designed to help students and their families learn about their options for higher education.
The report recognizes the 50 best small-town colleges nationwide. Michigan Tech is 43rd on the list. The institutions were evaluated on the basis of acceptance rate, retention rate, graduation rate and enrollment rate, according to the BestColleges.com website.
"This is welcome recognition of one of the many things that make Michigan Tech special," said John Lehman, associate vice president of enrollment, marketing and communications. "Can you imagine Michigan Tech in any other city in the country? I can't. For the students studying with us, our location in the wonderful community of Houghton and the Keweenaw perfectly complements the outstanding education they receive."
BestColleges.com explains why it decided to focus on small schools. "Bigger is not necessarily better," the website states. "At least that is certainly not the case when it comes to college towns. In fact, students across the country are doing their homework to find small-town colleges for many reasons.
"Small town campuses offer a spirit of community that can sometimes escape metropolitan areas," BestColleges.com goes on to say. "Nothing evokes the feeling of the traditional, American college experience like a small campus. When students elect to attend a small school, they are choosing not only a charming environment or vibrant student life, but a thoughtful place to begin their college journey."
Michigan Technological University is a public research university, home to more than 7,000 students from 54 countries. Founded in 1885, the University offers more than 120 undergraduate and graduate degree programs in science and technology, engineering, forestry, business and economics, health professions, humanities, mathematics, and social sciences. Our campus in Michigan's Upper Peninsula overlooks the Keweenaw Waterway and is just a few miles from Lake Superior.