Girls from Bahrain Attend WIE
By Mark Wilcox | Published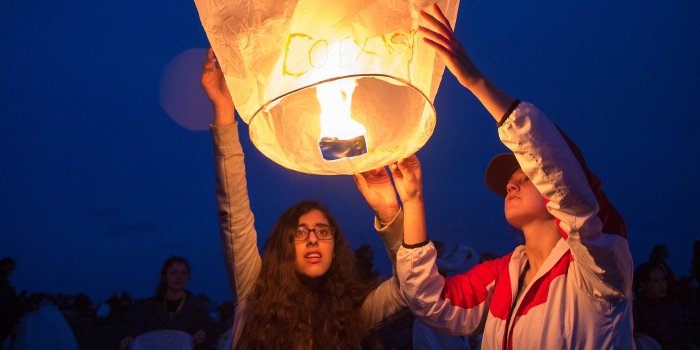 In 1982, Michele Kimpel Guzman had what she now calls a "life changing experience." Then a teenage high school student, she attended Women in Engineering, sponsored by Michigan Technological University's Summer Youth Programs.
"The experiences I gained there were so inspirational that I became an engineer," Kimpel Guzman says. She pursued her engineering education at MIT, not Michigan Tech, but she never forgot that special week in Houghton.
Memories of what she learned as a teen didn't end when she left engineering after 17 years to pursue her current career as a diplomat for the US State Department.
Stationed at the US Embassy in Manama, Bahrain, more than 6,700 miles from Houghton, Kimpel Guzman, began to envision a connection between Michigan Tech and the small Middle Eastern Country in which she resides.
Bahrain is a small Island off the coast of Saudi Arabia. According to Kimpel Guzman, the bulk of the country's economy is directly or indirectly related to the petroleum sector. The US has a free trade agreement with Bahrain, giving it an advantageous position in the Persian Gulf for companies wanting to expand in the region.
Women in Bahrain
"The US Embassy in Bahrain is interested in opening opportunities for increasing numbers of Bahraini women to enter science and engineering professions and in encouraging them to study these fields in the United States," Kimpel Guzman says.
So, reflecting on her experiences in the early '80s, she reached out to Michigan Tech's Summer Youth Programs, hoping the Women in Engineering (WIE) program that had such a profound impact on her would be suitable for eligible young women from Bahrain.
And indeed it was.
In 2014, three Bahraini girls traveled to Michigan Tech to take part in the week-long WIE event. This year the number increased to four.
On June 21, Sara Abdulamalek, Dania Al Nahdi, Razan Al-Haddad and Yazmeen Jassim landed at the Houghton County Memorial Airport to begin what they anticipated would be their own life-changing event.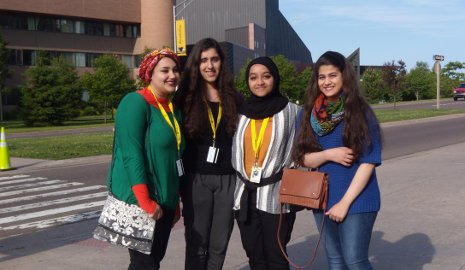 Al-Haddad was especially grateful to arrive at Michigan Tech after missing out on the experience a year earlier. "Getting here wasn't easy," she said. "When I wasn't chosen last year, I cried. Engineering is my passion. My father is an engineer, and it's what I want to do with my life, so I applied to get here again. I wanted to prove that I could make it if I didn't give up on myself. "
Careers in Engineering
Jassim has something to prove as well. She says in her country, engineering is a predominately male occupation, and girls are not encouraged to pursue careers in science and engineering. "Women are capable," she adds emphatically. "This camp has shown me I'm capable, and we've all received amazing support." Jassim says she's been impressed with the support and encouragement all participants receive from Michigan Tech's students and staff.
Al Nahdi says the week has given her direction into her intended career path. "I'm very interested in human factors and the program you have here," she explains.
Abdulamalek, who also says it wasn't easy to get selected for the program, called the experience "cool." She goes on to say, "The people are so nice, and they have what I'm interested in: physics, mathematics and engineering."
Jassim calls the melding of girls from so many different places and backgrounds inspiring. "A lot of the girls were interested in my background. We found that we all have our differences, but in many ways we're all the same."
Amanda McConnon, assistant director of Tech's Center for Pre-College Outreach feels the experience for the girls from Bahrain was positive.
"The Summer Youth Program is one way to give students a glimpse of what college life is like," McConnon says. "Over the week, I watched these girls come out of their shells and grow in confidence as they realize they can be the first women in their family to go into engineering."
McConnon continues, "It took Yasmeen only 40 minutes in class to be convinced that chemical engineering is what she wants to do. I love that our program clears up the confusion and helps students decide which type of engineering is or is not for them."
The experiences of the girls from Bahrain, both this year and last, might just represent the beginning of a long and prosperous relationship between the small Middle Eastern island nation and the remote technological university. Not only will Bahrain continue to send a handful of girls to Houghton each summer, but with the help of Michigan Tech, the country is looking to develop a similar program of its own.
Cody Kangas, director of Tech's Center for Pre-College Outreach—which runs the Summer Youth Programs (SYP)—says that SYP staff will be traveling to Bahrain to work with education and technology professionals to develop a program for girls patterned after Tech's WIE.
So if things fall into place, a summer in the life of an American girl in 1982 could turn into an inspirational experience for generations of young women in Bahrain. While girls in that country will no longer have to travel to experience hands-on education in STEM (Science, Technology, Engineering and Mathematics), there may still be some advantages to making the long trek from Manama to Houghton.
"We've enjoyed seeing everything here," says Jassim. "But we're really excited about going to Walmart." The girls' visit to America's largest retailer wasn't just a casual one either. Like true engineers, they had a plan. When asked what they were planning on purchasing, almost in unison they said,"Reeses, Sour Patch Kids and Cool Ranch Doritos."
It's a small world after all.
Michigan Technological University is a public research university, home to more than 7,000 students from 54 countries. Founded in 1885, the University offers more than 120 undergraduate and graduate degree programs in science and technology, engineering, forestry, business and economics, health professions, humanities, mathematics, and social sciences. Our campus in Michigan's Upper Peninsula overlooks the Keweenaw Waterway and is just a few miles from Lake Superior.