Adapting to Climate Change in the Central Appalachians
By Allison Mills | Published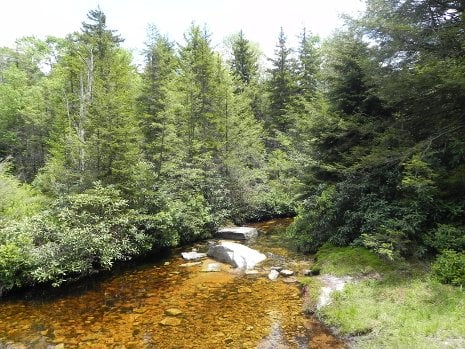 In applying climate change science, it is easy for land managers to miss the forest for the trees. Just monitoring the many details of localized climate change can overgrow to-do lists. Developing plans to deal with those changes in forests can be a daunting task, especially to landowners and foresters who don't have access to relevant information or the time to sort out the most credible resources.
Recently, a team of researchers and forest managers, led by Patricia Butler from the Northern Institute of Applied Climate Science at Michigan Technological University, completed the Central Appalachians Forest Ecosystem Vulnerability Assessment and Synthesis. This major report was published through the US Forest Service (USFS) Northern Research Station.
Butler says an important part of the project's success is writing for the audience.
"This document is written for your average forest manager or forest planner who is ready to incorporate climate information into their work, but is not necessarily a climate expert," Butler says, adding that the first step to thinking about climate change adaptation is understanding what might be vulnerable in the forest.
Climate Change Vulnerability
The team examined nine forest ecosystem types across three states in the Central Appalachians. Butler and her co-authors first assessed the effects of exposure and sensitivity to climate change, which are telling about an ecosystem's vulnerability.
"The vulnerability rating we give reflects the exposure and sensitivity weighed against the forest's resilience to those impacts," Butler explains. "Resilience is the forest's ability to withstand and bounce back from stress and disturbance. So, if you have high impacts and low resilience then you'll have high vulnerability."
However, low vulnerability doesn't mean no vulnerability, she says. The researchers look at a whole forest ecosystem, which has complex drivers that help determine the mixture of species and relationships that are found in any particular forest. Drivers and stressors include what Butler says is "anything that matters to a tree, a forest, and things that thrive within that forest," such as rainfall, growing season length, temperature and soil type.
"We know climate change is happening," Butler says. "We need to get a better sense of the direction and magnitude of not only future changes in climate, but future changes in drivers and stressors."
Modeling Complexity
Models help researchers like Butler make predictions about complex systems. There's a bit of art to interpreting modeling data, and Butler compares some of the maps she helped produce to impressionistic paintings. In Monet's work, a single brush stroke means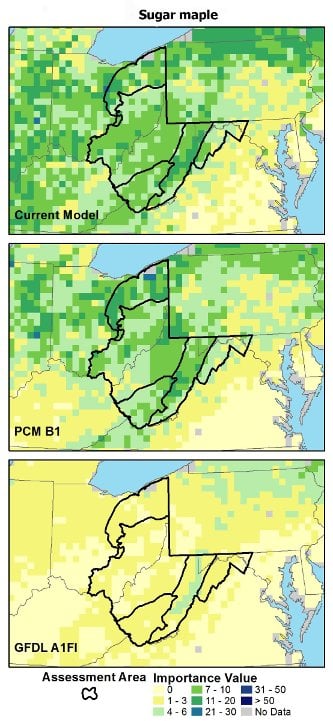 little—just like a single pixel in a modeled prediction map. Instead, Butler says to take a step back and look at the whole visual. Like in this map showing changes in sugar maple habitat, patterns emerge that illustrate relative changes across the region, but very little about an individual location. In this case, current sugar maple habitat (top) is predicted to decrease very little under a low climate change scenario (middle), but decrease dramatically under a high climate change scenario (bottom).
However, much like a finished painting, modeling data has to be interpreted, along with the inherent uncertainties associated with models. To make that transparent to forest managers, modelers on the Central Appalachians project identified model limitations, reviewed data with forest managers and adjusted model inputs to better represent the complex landscape of the Central Appalachians.
Model results are not meant to be stand-alone. In the vulnerability assessment, there are many assumptions that have to be made about model simulations. That's why Butler and her team sought input from local experts to help ground the models in the real forests.
Climate Change Adaptation
This process is part of the Climate Change Response Framework, a highly collaborative approach to assessing and adapting to climate change led by the Northern Institute of Applied Climate Science. Butler helped develop the framework and continues to coordinate contributions by dozens of organizations in the Central Appalachians and Mid-Atlantic regions.
"The Climate Change Response Framework is designed to look at a landscape with numerous stakeholders and land owners," she says, including federal, state, tribal, private and non-profit forests. The framework is not prescriptive; it involves a logical thought process that leads stakeholders through making their own decisions for the lands they manage.
"Ultimately the decisions rest with land managers because they know their forests best and know what they're trying to achieve," she says. The framework—and this new report—provides the tools and resources to help land managers make climate-informed decisions.
Michigan Technological University is a public research university, home to more than 7,000 students from 54 countries. Founded in 1885, the University offers more than 120 undergraduate and graduate degree programs in science and technology, engineering, forestry, business and economics, health professions, humanities, mathematics, and social sciences. Our campus in Michigan's Upper Peninsula overlooks the Keweenaw Waterway and is just a few miles from Lake Superior.