Student Entrepreneurs Launch Sustainable Sunglasses Company
By Monica Lester | Published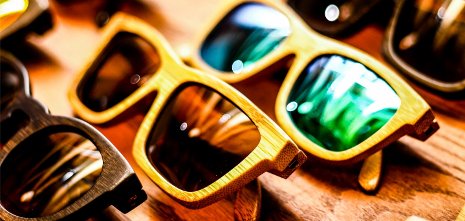 Innovation is a familiar word at Michigan Technological University, and it has been part of Adam Weber's life since high school.
Weber, an undergraduate studying computer network and system administration at Michigan Tech, co-founded 1st Element Sunglasses with fellow Iron Mountain High School graduate Matthew Anderson, a University of Michigan student. Last summer, Weber and Anderson were looking online to buy bamboo sunglasses and found the prices quite expensive: $120 to $150 per pair.
"We thought we could do better," says Weber. With Weber and Anderson's woodworking and engineering experience, they knew the price could be reduced by completing manufacturing overseas. "We can now make a pair of sunglasses for around $50," says Weber. "Our goal is to mainly create low-cost sunglasses and help the environment in the process."
Sustainable
How do bamboo sunglasses help the environment? One of 1st Element's goals is to revolutionize the eyewear industry with its sustainable material – bamboo. The plant can grow three feet a day, replenishing the assembly line as the sunglasses are being manufactured.
Not only do the sunglasses help you look sustainably cool, say Weber and Anderson, a portion of the profits is donated to Conservation International to help save acres of land from deforestation. "We chose this charity because of its transparency and abilities to fundraise," says Weber." 1st Element is a part of Conservation International's Adopt-an-Acre program and hopes to continue on as they sell more and more glasses.
Starting a business while pursuing a college degree is no easy task, but Weber and Anderson have been hard at work to grow their capacity. 1st Element is a member of StartUM, a University of Michigan-based yearlong venture incubator. Students at UM's Ross School of Business guide and provide resources to help Weber and Anderson grow the company. They were also selected as a top 90 semi-finalist in 1000 Pitches, a competition among six universities that generates more than 7,500 pitches. 1st Element also received a Jump Start Grant through the University of Michigan Center for Entrepreneurship.
Crowdfunding
Growing a business means always looking toward the future. 1st Element plans on being on store shelves in Ann Arbor and across the Upper Peninsula within the year. They also hope to expand their product line into a UP- inspired series including sunglasses made from regional wood like maple and hickory.
The company is in the midst of a Kickstarter crowdfunding campaign right now that has only days left. Later, they hope to run another campaign on Michigan Tech's crowdfunding site, Superior Ideas.
Michigan Technological University is a public research university, home to more than 7,000 students from 54 countries. Founded in 1885, the University offers more than 120 undergraduate and graduate degree programs in science and technology, engineering, forestry, business and economics, health professions, humanities, mathematics, and social sciences. Our campus in Michigan's Upper Peninsula overlooks the Keweenaw Waterway and is just a few miles from Lake Superior.