Building a Snow Statue, Building a Career
By Kevin Hodur | Published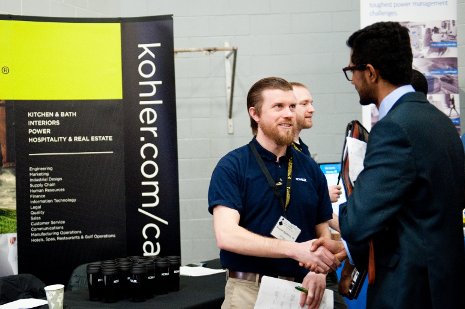 The thing is, they're both about building.
Less than two weeks ago, Michigan Tech students were climbing atop half-complete statues, braving sub-zero wind chills in ripstop nylon. Ignoring the cold, they were building: sculptures, friendships, memories. They swapped the ski clothes for business attire in preparation for the Spring Career Fair this week-- the transition, a study in contrast, but the determination, the drive is the same: building connections.
The weather's the same, too. Suits and hiking boots through the flurries outside, the swap to dress shoes made beyond the grooves of slush in the entryway.
Career Fair is as much a celebration as Winter Carnival. While the All-Nighter is all about the moment, Career Fair is a look at what is possible down the road. Less noticed is that it's also a celebration of the road to this point, of support and hard work and more hours than anyone can count of dedication.
At noon on the day of Career Fair, it's more of a murmur in the Multipurpose Room than a roar. It's productive, not panicked. The spring Career Fair is the smaller of the two held annually, after all, but with 240 companies, it's still the largest of its kind to date.
Some lines are already forming by the bigger companies. It's a sea of dark grey and black suits, skirts and jackets over by Cummins, the bright red polos of their staff standing in very stark contrast.
The aisles are getting crowded. The tables are packed tightly together. It's almost a blur going from one rep to the next, students checking their floor maps in between, picking out their routes.
In one corner, I ask a company representative about the difference between the fall and spring Career Fairs.
"A few years back, with the state of the economy, most companies were hiring in spring," he explains. "They didn't know their budgets that far out. Now, though, most hiring is in the fall, and it's just those scrambling for the right fit in the spring."
I mention the scarcity of jobs when I finished undergrad.
"No, no," he corrects me. "It's not the students who are scrambling. It's the employers. We need these students."
More than one employer was looking for something besides individual majors, too. "We want creative, imaginative, sharp people," she said. "If they've got that, with the right training and experience, they can do almost anything."
The other contrast to the staid business wear of the students is the look of each booth. Most have retractable banners, bright and colorful, while a few have collapsible, three-dimensional displays. There is free stuff ranging from beverage bottles to USB chargers to foam-rubber locomotives. Every element is here to catch the eye and serve as a reminder.
Eric West, a Tech alumnus and vice president of automation controls at Pieper Electric in Milwaukee, points out a few parallels between what these students have built so far and what companies like Pieper want to build.
"I've been with the company for eleven years," he explains. "And we've more than doubled in that time. But more importantly, I've only had one person leave my division in those eleven years. We're building something here, and we want our employees to have pride in their work and what they do. We don't want turnover. Our people really matter to us."
What are they looking for here today?
"People who want to make a difference. People who have pride in their work."
By the time the last of the shuttle buses pulls up to the SDC, the retractable banners are tucked away and free goodies gone or packed up. Already attention is shifting to the next couple of days, packed with interviews. Hats and boots come back out of hiding. Dress clothes go back in protective bags.
One student got on that last bus with a company rep.
"Did you get a chance to see our statue? We finally won it this year. We were really proud of what we built," he said. "So what time did you want to meet tomorrow?"
Michigan Technological University is a public research university, home to more than 7,000 students from 54 countries. Founded in 1885, the University offers more than 120 undergraduate and graduate degree programs in science and technology, engineering, forestry, business and economics, health professions, humanities, mathematics, and social sciences. Our campus in Michigan's Upper Peninsula overlooks the Keweenaw Waterway and is just a few miles from Lake Superior.