Racing Toward a Dream
By Mark Wilcox | Published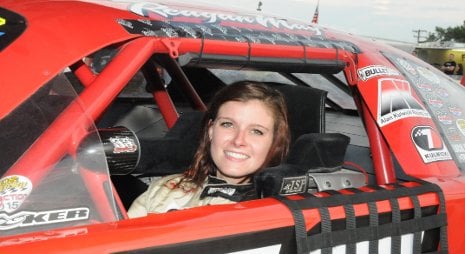 When Reagan May was 9 years old, she went to a bowling alley with her family in her native DePere Wis. What happened next changed the course of her life, and it had nothing to do with strikes and spares.
"Someone was there with a go-cart," the fourth-year mechanical engineering student at Michigan Technological University says. "I sat in, and I knew right away that's what I wanted to do."
Like a scene from a movie, once that little girl wrapped her hands around a steering wheel, she hasn't let go. What started in a bowling alley parking lot almost immediately blossomed into a successful racing resume. She began, naturally, racing go-carts with her brother. After a couple of years, she advanced to mini-stocks, and at 15 – before she could legally drive on Wisconsin highways – she was speeding around the state's race tracks in super late-model stock cars, the highest class in short track racing.
These days, she's tearing up small tracks throughout the Midwest and beyond, having success not only as one of the youngest, but one of the very few female drivers. May competes in the TUNDRA Super Late Model Series, where she was named Rookie of the Year in 2014. A car fire earlier this season essentially extinguished any hopes of a 2015 TUNDRA Series title, and as of August 18, she held ninth place.
While she will have to wait till next year for a shot at her first series title, May and the checkered flag have not been strangers this summer.
"We have six feature wins out of 22 starts this season, 14 top-five finishes and 17 top-tens," she says. One of those wins occurred on August 18, at Golden Sands Speedway in Plover, Wis. With that win, she claimed her first-ever super late model track championship. Taking the checkered flag, she became the first female super late-model track champion in Wisconsin and only the fourth in the US. Wins at Sands speedway in Marquette County and Kinross in the Eastern Upper Peninsula earned her the U.P. Challenge earlier this season.
Her success has not gone unnoticed in the racing world. May is one of only seven drivers – and the only woman – in the 2015 Kulwicki Driver Development Program, established by the family of late NASCAR Champion Alan Kulwicki. The Greenfield, Wis. native, who died in a plane crash in 1993, began his career, like Reagan May, on the short tracks of Wisconsin. He progressed to NASCAR, where he was the 1986 Rookie of the year and won the Winston Cup in 1992. According to its website, the Kulwicki Driver Development Program aims to "help worthy drivers along the way in reaching their dream, while at the same time keeping Kulwicki's memory and legacy alive."
May says the program helps in several ways. "It provides financial support to help cover expenses and provides other resources such as sponsorship, publicity, business education, and industry networking and relationship building."
The comparisons between May and Kulwicki don't end at the track. The late champion earned a bachelor's degree in mechanical engineering from the University of Wisconsin-Milwaukee. May will receive hers from Michigan Tech in December 2016.
May believes her Michigan Tech education is the key to her racing success, as the focus of her study is automobile suspension. Because super late models use sealed engines, essentially outfitting each competitor with the same motor, the car's suspension, how it handles around the track, is what makes each car different from the others. "Suspension is key," she says. "It's where we find our speed."
That she says, is where her Michigan Tech education comes in. "I think being able to use what I learn at school helps. Understanding suspension, how the car actually works, is important. Understanding how what we do in the shop can affect the car on the track makes me a better driver."
May says she'd eventually like to work in the research and development of suspension parts, "that's my area of interest." In addition to her coursework, in 2014 May was an intern at Coleman Racing Products of Menominee. Not coincidentally she is a member of the Coleman Racing Team, which includes last year's TUNDRA Series Champion, Dalton Zehr. As of August 18, Zehr is just nine points behind series leader Ty Majeski, who is also in the Kulwicki Driver Development Program.
While she sees herself as an automotive designer some day, May says she's not ready to give up the race track just yet. "Ideally I'd like to make it to NASCAR, either as a driver or a car engineer," she says. Getting there as an engineer might be the quicker route, just not the preferable one. "Working as a car engineer would be great, but it would cut into my driving."
If and when she makes it to racing's Big Show, there will be a familiar face waiting for her. Tech alum Greg Ives is crew chief for one of the biggest names in NASCAR, Dale Earnhart Jr. "I know him," she says of her fellow Husky. "I've raced with his nephew and actually worked with him on a short track down in Florida."
The current season is winding down, with most races ending on the Labor Day weekend. By then, May will already be back in Houghton attending classes. She will travel south for her final race of the season, Oktoberfest Race Weekend, Oct. 8 – 11, in LaCrosse, Wis.
These days, things are going pretty well for Reagan May—The Kulwicki program, Coleman Racing and the TUNDRA Series have all been good experiences, as is her education in Houghton. "I really love Michigan Tech," she says. "Before I came here, I really didn't like snow that much. But, I learned to snowboard during my senior year of high school, and now I love the winter and being outdoors."
She says that right off she had an intuitive sense that she belonged at Tech, something like that feeling she had about driving. "The first time I visited the Michigan Tech campus, I loved it. I knew it was going to be a good fit."
Kind of like a go cart in a bowling alley parking lot.
Michigan Technological University is a public research university, home to more than 7,000 students from 54 countries. Founded in 1885, the University offers more than 120 undergraduate and graduate degree programs in science and technology, engineering, forestry, business and economics, health professions, humanities, mathematics, and social sciences. Our campus in Michigan's Upper Peninsula overlooks the Keweenaw Waterway and is just a few miles from Lake Superior.