Army ROTC Students Ski the Tech Trails
By Monica Lester | Published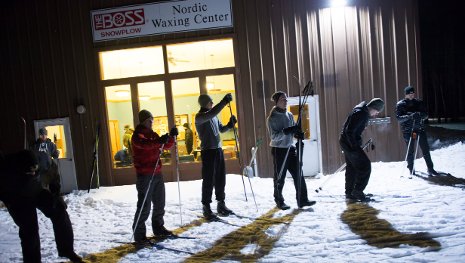 Many of us at Michigan Tech feel the symptoms of "Cabin Fever" as winter drags on. Our activities are secluded inside for the most part, and we start feeling that itch for the outdoors and warmer weather. But winter hasn't kept Army ROTC students inside.
Since the first week of the spring semester, Army ROTC students have been hitting the Tech Trails before dawn to cross-country ski for their required physical training (PT). "Physical fitness is a huge part of the army," says Dustin St. Arnaud, Army ROTC public affairs officer and fourth year civil engineering student. "We are here to train to be soldiers, and PT tasks help with that."
On Mondays and Fridays at 6 a.m., groups of 30 students have been going to the Tech Trails to cross-country ski for an hour. To ski and use the equipment, all Army ROTC students joined the Nordic Ski Club, and they now make up about 10 percent of the club's 600 plus members.
"Army ROTC members can ski whenever they want – not just during their PT," says Blair Orr, a Nordic Ski Club member. "Michigan Tech has the best ski trails and snow in the country and seven of the many kilometers of the ski trails are lit. Tech Trails management was nice enough to turn on the lights for the pre-dawn skis, but it turned out that the Army ROTC skiers weren't daunted by fast downhills in the dark. Many of them skied trails both with and without lights."
Cross-country skiing is the alternative to running laps around the multipurpose room in the SDC, which can become quite repetitive. "It's a different avenue of fitness for the cadets," says Lieutenant Colonel Adam Melnitsky, professor of military science. "Historically, we are in the gym all winter long."
Many of the students enjoy this new avenue. "I used to ski a lot in high school," says St. Arnaud. "It is great to start up again, and this gives me the chance."
Michigan Technological University is a public research university, home to more than 7,000 students from 54 countries. Founded in 1885, the University offers more than 120 undergraduate and graduate degree programs in science and technology, engineering, forestry, business and economics, health professions, humanities, mathematics, and social sciences. Our campus in Michigan's Upper Peninsula overlooks the Keweenaw Waterway and is just a few miles from Lake Superior.