Outdoor Nation Campus Challenge Asks: Is Michigan Tech the Most Outdoorsy?
By Danny Messinger | Published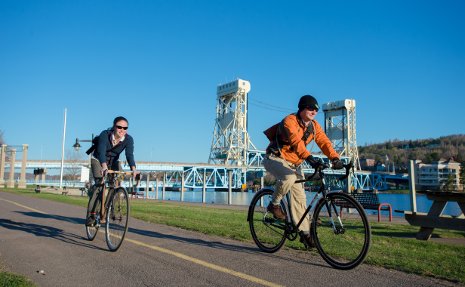 Michigan Technological University owes a lot of thanks to Mother Nature for its beautiful setting. From lakes and forests to mountains and trails, Michigan Tech's wild side sets us apart. Now it's time to earn bragging rights for how much we use these assets to our advantage.
From Sept. 27 through Nov. 22, members of the campus and community—students, alumni, faculty, staff and community members—are encouraged to get outdoors and document their experiences on www.oncampuschallenge.org. Participants make an account and choose which of the 10 competing schools they are affiliated with. Users will then be able to log in and tally their activities. Whichever school has the most activity points at the end of the eight-week contest will win the National Outdoor Championship—including a campus-wide celebration, a huge outdoor-gear package and more.
"We're so excited to be able to show off Tech's amazing location through this great competition," said Caitlin Wilkins, Outdoor Nation competition coordinator and current student. "We know that a love of the outdoors is a common thread among all Huskies, and this way we can really show it off."
Throughout the competition, there will be a variety of activities to encourage outdoor activity, including a free "adventure" bandana giveaway for current students, bike repair clinics, a photo competition and more. Activities are hosted by the Outdoor Adventure Program, WHSA, Outdoor Venture Crew, IRHC, Paintball Club, and more. Local businesses have also joined the adventure; members of the community can learn more about the competition and purchase bandanas at Downwind Sports, Cross Country Sports, and Amy J's Pasty.
"There are plenty of ways for people to get active and share their experiences," said Wilkins. "Stay tuned to our Facebook event for more information."
Michigan Technological University is a public research university, home to more than 7,000 students from 54 countries. Founded in 1885, the University offers more than 120 undergraduate and graduate degree programs in science and technology, engineering, forestry, business and economics, health professions, humanities, mathematics, and social sciences. Our campus in Michigan's Upper Peninsula overlooks the Keweenaw Waterway and is just a few miles from Lake Superior.