Society of Women Engineers Honors Alumnae, Tech Section and Members
By Jennifer Donovan | Published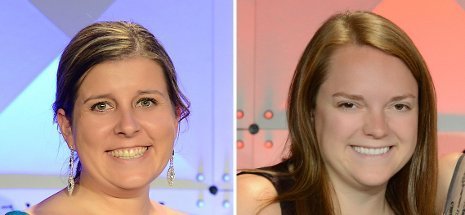 The Society of Women Engineers (SWE) honored Michigan Tech alumnae Britta Jost and Kaitlyn Bunker at its annual conference, WE14, in Los Angeles last week. Jost received the SWE Distinguished New Engineer award, and Bunker was recognized as 2014 Outstanding Collegiate Member.
The Michigan Tech Section of SWE received the international 2014 Outstanding Collegiate Section award.
Jost, who graduated from Michigan Tech with a master's degree in mechanical engineering in 2004, is a senior design engineer with Caterpillar. She is the Tech section's SWE counselor. Her award recognized her for "inspiring and leading by example, and for an ability to bring together on the job, in SWE and in the community."
Bunker, a recent PhD graduate in electrical engineering, was collegiate director of SWE and sat on its national board of directors. She was president of the Michigan Tech section for two years and served on a society-level committee focused on leadership coaching for SWE sections. Her award was for "superior academic achievement while advancing SWE's mission with forward-thinking leadership and enthusiastic engagement."
The Michigan Tech section of SWE sponsored travel for 17 members to attend the conference. An additional two students attended independently. Elizabeth Hoy (IIE) and Gretchen Hein (EngFund), both SWE advisors at Tech, also attended.
An essay by Elizabeth Wohlford, a junior in mechanical engineering, took top place among 27 essays submitted by Michigan Tech SWE section members. Wohlford's essay, submitted to the Schlumberger: Stilettos to Steel Toes national essay contest, placed first last year too.
Wohlford's undergraduate research with Professor Michael Neuman (BiomedEng) also took second place in the conference collegiate poster competition. She was one of 10 finalists invited to bring posters to the conference.
Two Tech students, Samantha Kallman and Kathrine Cipriano, participated in the Collegiate Leadership Institute Summit. They were chosen on the basis of an essay on how the leadership summit would further their future aspirations as female engineers. Kallman is the current president of Michigan Tech's SWE.
Hein and Bunker conducted a workshop at the conference on cultural inclusion and diversity. Other Tech participants in the project included Professor and Associate Dean Leonard Bohmann (ECE), Associate Professor Nilufer Onder (CS), Assistant Professor Laura Brown (CS) and Raven Rebb, a recent graduate in computer science.
Michigan Tech's Graduate School had a booth at a Career Fair held during the SWE conference.
Michigan Technological University is a public research university, home to more than 7,000 students from 54 countries. Founded in 1885, the University offers more than 120 undergraduate and graduate degree programs in science and technology, engineering, forestry, business and economics, health professions, humanities, mathematics, and social sciences. Our campus in Michigan's Upper Peninsula overlooks the Keweenaw Waterway and is just a few miles from Lake Superior.